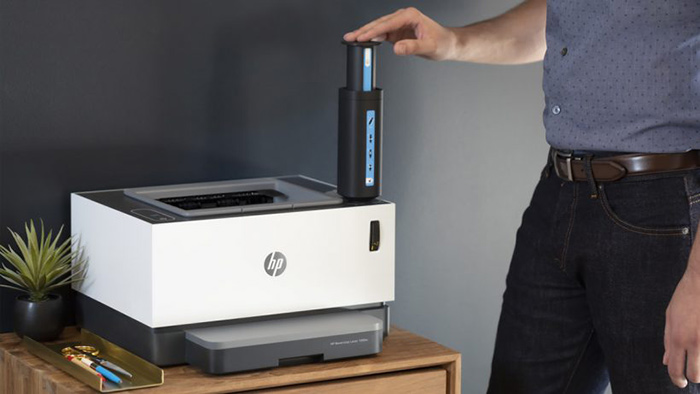 The manufacturer HP has announced its first Toner Tank printer with an ink tank. The enclosure is known as "Bulk Ink" and promises to reduce the cost of printing per page. Goodbye, cartridge!

The new HP Toner Tank is designed for small businesses or people with high print volume requirements, as it can print up to 8,000 pages with a set of three HP color cartridges or up to 5,000 pages with one ink bottle black from HP, according to the manufacturer.
The bottles that hold the inks contain an anti-fouling cap that prevents any dirt at the time of recharging. The HP NeverStop Laser printer system releases the ink only when docked into an ink tank inlet.
The level of paint can also be checked with the naked eye because the tank has a clear coating. The printer is ready to use automatically after recharging, without the need to wait for setup. With WiFi connectivity, it can print directly over the wireless network.
Designed for users with busy home and home office print needs, HP Smart Tank features a new era of ink tank technology delivering time -saving tools and outstanding print quality of any ink tank in its class.
Key features include:
Up to 38 percent faster printing speeds and faster connection with dual band Wi-Fi
An integrated tank design with automatic ink sensor alerts you before ink runs out
Eliminate steps in repetitive tasks with custom shortcuts on your phone or printer with HP Smart Tasks
Easy mobile scanning and printing with HP Smart App
Count on dark, sharp text and vibrant graphics for all prints
Create professional borderless brochures and photos
Print 6,000 black or 8,000 color pages right out of the box with virtually no interruptions-perfect for high-volume printing