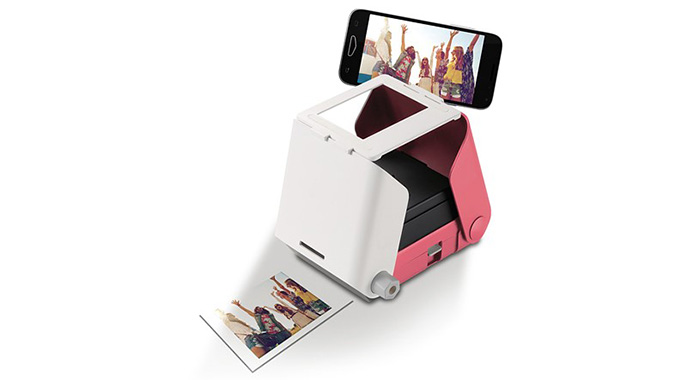 Toy manufacturer Tomy has announced the KiiPix, a new instant printer designed for smartphones. Unlike many instant cameras or photo-printing devices, KiiPix does not require batteries, an app or Wi-Fi to use; simply open up the device, place your smartphone on top, press the button and rotate the dial to produce the image. The printer uses ordinary Fujifilm Instax Mini film, which is cheap and easy to order.

There has been a huge increase in the popularity of instant photography in the last number of years as consumers turn to analogue camera equipment and discover the joy of print photography in this digital age. KiiPix combines both the new and the old, as users can capture and modify photos on their smartphones before instantly printing, retro style.
Printed images can have adhesive backing — to stick on notebooks or give away to friends. Though there are already multiple instant printers on the market, most of them require batteries that have to be regularly charged.
KiiPix comes in three colours, cherry blossom, sky blue and jet black and is now available for $40 USD.