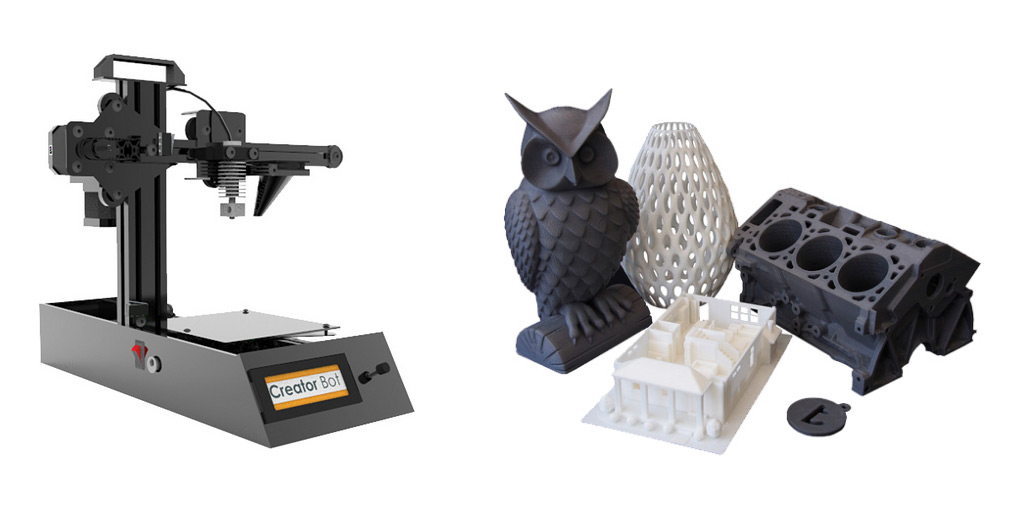 Indian producers were not among the first in the 3D printers market, but now they have created a rather competitive 3D printer at once. CreatorBot founders have focused on the weight of the machine and its price. Instead of bulky and heavy competitors, CreatorBot 3D printer is ultra-light, only 3.5 kgs and can be easily carried. What's more inspiring, the cost of the model is around $470, which is rather available.

For those, who already deal with 3D printers, the following info will mean something, because the gadget is able to print objects the size of 125 cubic Inches (5?×5?×5?) at a resolution of 100 microns. The other specifications of CreatorBot are:
Print Speed: 100 mm/sec,
Nozzle Size: 0.4 mm,
Filament Diameter: 1.75 mm,
Power: 12v 5A Power adapter (included).
Moreover, three types of materials can be used in the CreatorBot 3D printer, they are PLA, Nylon, ABS with heated bed. And the model features printing through SD Card and is equipped with a Multifunctional Graphic LCD Controller. The purchase of the gadget and its parts can be made online. As well as the support is also online available to all the users. According to the developers, it's a budget printer "for a hobbyist or an enthusiast", though producing decent quality objects.