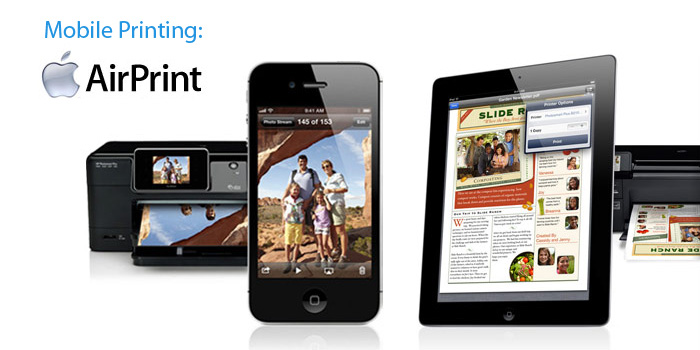 Wireless printing technology AirPrint provides direct printing from iPod touch, iPhone and iPad mobile devices with no need to download any driver or to install any software. AirPrint makes printing of MS Office and other documents, photos, e-mails, web-pages and the content of integrated apps available.

Not all of the mobile devices could use AirPrint, but only the ones with the latest version of iOS: for iPod touch it's the 3rd generation or later versions, for iPhone 3GS or later, for iPad—all models.
To make use of AirPrint, first you should connect the device to the same Wi-Fi network as the needed printer, which on default is set on all the home networks. The technology supports wireless connection in both Infrastructure and Ad hoc Modes. Then, make sure printer is switched on and networked.
To print a document, you should complete the following steps:
On the mobile device choose the document you need to print (from Apple applications, such as Mail, Safari, Camera, Photos, Maps, Numbers, Pages, Keynote, Filemaker Go and some other available from the App Store),
Open the list of available printers,
Choose the proper printer,
Select printing settings (amount of copies, the exact page numbers, duplex printing),
Send the document to printing.
That's all. Very simple and fast. It's a pity that the AirPrint technology isn't much spread, though many of the leading printer manufacturers produce AirPrint-enabled machines. To make sure you printing device belongs to the models supporting AirPrint, check the list of them on the Apple site.