Xerox Corporation has been named one of the leaders in the report of the Gartner research company "Magic Quadrant of MFPs and printers"-2010.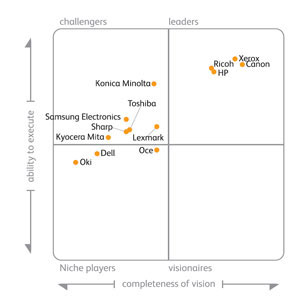 The Magic Quadrant is a research tool developed by Gartner, which allows demonstration of direction and level of development of a particular market and its participants, as well as to evaluate manufacturers from the point of view of completeness of market vision and ability to implement plans.
According to Gartner, the leader companies have the following characteristics:
These are companies that, regardless of the location of the customer, can organize its uninterrupted supply of multifunction devices (including the base models), printers and related solutions and services in the field of printing.
These are vendors producing a wide range of products, in no way inferior to the products of competitors. They have a broad distribution channel that enables the delivery of products to end users.
These companies have consistently occupied large market share worldwide and are able to provide consistently high level of service in all regions where there Gartner customers are.
These companies have great opportunities around the world: resources, research, experience, strategic vision. All this allows them provide first-class support to existing and future customers globally.
These companies have extensive experience in implementing research and development into products and solutions that are designed to meet the needs of clients.
Rick Dastin, President of Enterprise Business Group at Xerox Corporation, says the company believe that recognition of the Xerox as one of the leaders will allow them to achieve even greater success in performing their long-term strategy.
"We help our clients increase productivity, reduce costs and reach new heights in business, – said Rick Dustin. – Our goal is to provide a clear and efficient work of all technology, software and business processes of our client so that they could concentrate on their core business."