Just a couple of months ago Samsung bolstered world's smallest color laser printer (http://blog.tonercartridgedepot.com/2008/03/12/worlds-smallest-color-laser-printer-samsung-clp-310/). The other day the company broke its own record: it rolled out the new smallest color printer in the world – Samsung CLP-315K.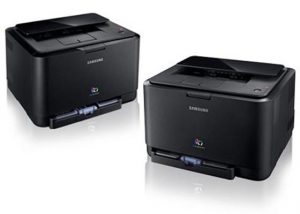 The new tiny printer measures only 388 x 313 x 243 mm and weighs around 11 kilos. Compared to previous generation, the dimensions have shrunk by 20%.
Despite the size, the Samsung CLP-315K color laser printer uses Samsung toner cartridges, delivers 4 color or 16 black and white pages per minute at 2400×600 dpi resolution and has 32 Mb on board.
There is also a multifunction version of this printer, CLX-3175FNK (the left one on the picture with cute Korean girls). This MFP features not only direct print from various devices such as flash-drives, cameras, mobile phones, but it also supports scanning of documents directly to removable storage.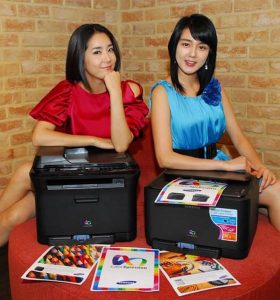 The two devices are yet available in Korea only, but it should not take long for them to appear on American and European markets.