This month I envy the Brits. They can exclusively have a new Xerox Phaser 6125. It's a full-color laser printer for as little as 119 GBP ($240 if sold in the US.)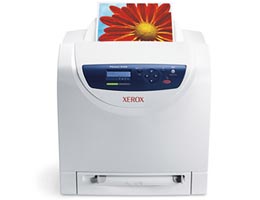 But what Xerox actually has to offer us, err… them this time? Once again, Xerox Phaser 6125 is a color laser printer with printing speed of up to 12 ppm in color and up to 16 ppm in black and white. The first page is out in 17 seconds. Phaser 6125 comes with a 333 MHz processor, 64 MB standard memory onboard and a built-in network adapter.
The printer can bolster small dimensions 400 x 394 x 389 mm – remember, today size matters when it comes to working space. One more thing: the printer id only compatible with Windows. Sorry, MacOS and Lunix users.
There is something that made me envy even more. Xerox makes a special offers for everyone who buys Phaser 6125 in April — you can have
– Free US Robotics Wi-Fi print server,
– Extented warranty or
– Free set of color (cyan, magenta and yellow) toner cartridges.
Can't wait for this offer to be available in the US.