Due to heavy competition in SOHO segment, every brand adds original features that could be the reason to buy the device. Last year OKI had launched a line of color LED printers C321, C331, C511, C531 – the commercial versions of the same printing mechanism – and their price still stays low and attractive.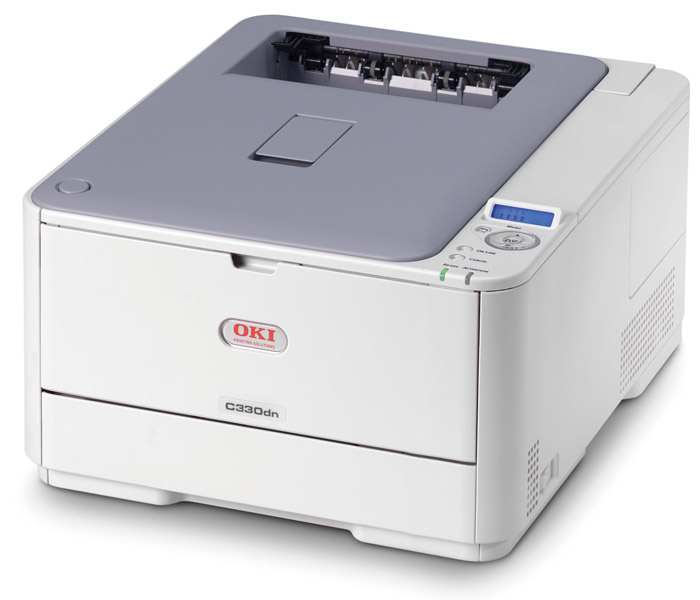 Oki C331dn is a new model to replace the previous C330/C310, in which an essential flaw has been eliminated. The problem lays within the cartridge capacity. These printers use 4-in-1 cartridges, and in the office printing usually exceeds color printing by 30%, so the color cartridges were not finished up. In C331dn yellow, cyan and magenta cartridges are not used in the process of black/white printing, and the capacity of the black cartridge was enlarged to 30,000 pages, while this number in the color cartridges is 20,000.
The advantages of this printer are the greater printing speed, excellent speed of photo printing and good quality of the output.
Other Oki C331dn fine features are:
Intelligible menu options
Plain control panel
Integrated duplex
Low-slung design, what could be an advantage at a small office
Durable and solid exterior construction
Together with the main tray, which holds 250 sheets, and a multipurpose tray for 100 sheets (it can be used for different types of paper stock, including envelopes, index cards, banners and labels), there is an optional 530-page tray, what considerably enlarges the page capacity of the printer
5-year warranty for the LED printing module and 3-year warranty for the rest of the printer