Now, let's get back from the world of innovation technologies to printer maker releases.
The Compact
HP unveiled a new flagship device to update the Photosmart series of compact printers – Photosmart A826 Home Photo Center. No need to say the new printers are designed to make your home printing experience easy and fun, that's what all compact printers are for.What makes Photosmart A826 special among the likes is a huge, 7-inch color touch-screen specially to edit photos by applying such effects as removal of red-eye, slimming, black-and-white and sepia, and solarization.
The printer can produce 4×6 and 5×7 prints, as well as panoramic pictures as wide as 4×12 inches. The new model uses three-color Vivera dye-based ink cartridges that allow for maximum print resolution of 4800×1200 dpi. The A826 will be available in September 2007 for $249.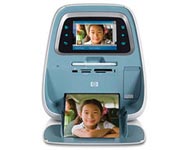 The Stylish
On its part, Canon also introduces fancy-looking device. The new Pixma MP145 is an all-in-one inkjet printer designed for home and office use.The printer incorporates Canon proprietary FINE printheads, which according to the company can produce borderless 4-inch x 6-inch photos within just 60 seconds. The printheads inject ink droplets as small as 2 picolitres to achieve resolution of 4800 x 1200 dpi in color.
Canon Pixma MP145 features printing speeds of 20 ppm for monochrome and 15 ppm for color. Copying speed is virtually the same — 19 ppm for monochrome and 15 ppm for color copies. The printer's scanner (as funny as it sounds) employs a CIS sensor that provides optical scanning resolution of up to 600 x 1200 dpi.
If you consider the design of the new Pixma MP145, you will notice that the model uses unusual for Canon inkjets color scheme. White case and black interface panel give this printer a look similar to that of Apple gadgets. By the way, the Pixma MP145 is compatible with Macintosh machines, take a note of that.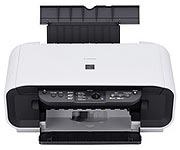 The Sexy
What kind of image appears in your mind when you hear the phrase "laser printer"? Usually, that's something clumsy, craggy and made of gray plastic. But not necessarily so. Samsung introduced two printers that stand out from ruck of printing devices."The world's slimmest monochrome laser printer, ML-1630, and multifunctional printer, SCX-4500, blazes a new trail for the global printer industry beyond functional competitions and opens a design-centric printer era," states the subhead of Samsung's press release.
Indeed, printers are different from what I have seen before, speaking in terms of design. High-glossy black 'grand-piano' finish, previously common in Samsung's MP3-players and TVs, gives the devices a very distinct look.
Meanwhile, unlike the design the technical characteristics are pretty common. Samsung ML-1630 feature 600 dpi, 16 ppm, 15 second wake-up time, 8MB cache and USB 2 connectors. The multifunction Samsung SCX-4500 needs Samsung toner cartridges, has functions of copier (same specifications as for printer) and scanner of 600 x 2,400 dpi maximum optical resolution.
No information on price is available yet, however I expect it to be somewhat above average for the sexy design. If you want to spice up the look of your working place, these printers are definitely worth spending some extra money on.