Today, businesses and organizations of all sizes require access to wide format color printers in order to stay competitive in the marketplace. Whether you're printing out promotional materials, banners or posters for a trade show, developing blueprints or charts for an engineering project, creating stunning photos for display or anything else that needs extra space and impact – having access to the right wide format color printing technology can be essential. In this comprehensive guide on wide format color printer technology we are going to take an in-depth look at how these powerful devices work as well as helping you decide which type is best suited to your business needs. So let's get started!
Overview of wide format color printing technology and its applications.
Wide format color printing technology has revolutionized how digital images and documents can be printed. This innovative printing format allows for powerful, vibrant, and legible digital output that can be customized to suit any size or shape. Its applications range from digital advertising to large-scale industrial projects where its accuracy and clarity are essential. It is commonly used in the signage industry due to their ability to print in high-resolution with a wide range of colors and sharpness. Wide format color printing technology also enables companies to produce creative prints such as wall art and framed art prints of photos, graphics, maps, logos, etc., quickly and economically. With an increasing number of organizations taking advantage of its capabilities, this remarkable printing technology looks set to continue growing in importance.
Here's a brief overview of the history of color wide format printing equipment and the companies and individuals behind its creation:

Early 1970s: Electrostatic Printing
1.The first color wide format printing equipment was based on electrostatic printing technology. In 1970, the Xerox Corporation introduced the first electrostatic color copier, the 6500, which was capable of producing large-format color prints up to 36 inches wide. Electrostatic printing used a process that involved the transfer of toner particles to a surface using an electrostatic charge. The 6500 was followed by the 6600, a larger-format printer that could print up to 46 inches wide.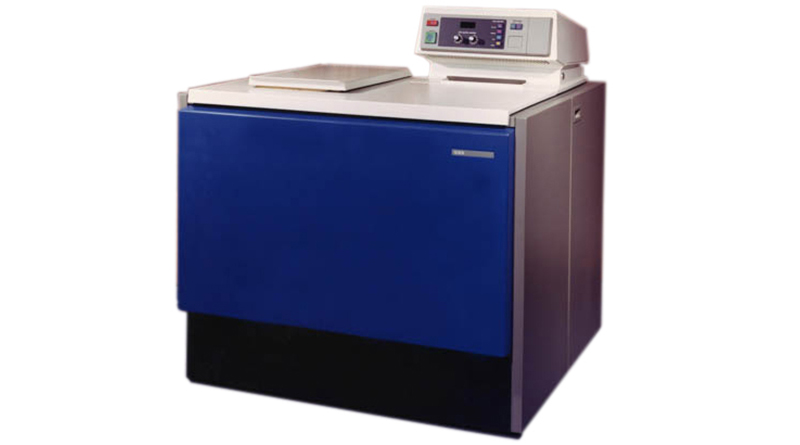 Late 1970s: Inkjet Printing

2.In the late 1970s, inkjet printing technology was developed, which allowed for the creation of color wide format printing equipment that was more affordable and easier to operate. In 1977, Hewlett-Packard introduced the HP ThinkJet, the first inkjet printer designed for personal computers. The ThinkJet was capable of printing in color, but it was limited to printing on standard letter-sized paper.

1980s: Wide-Format Inkjet Printing

3.In the early 1980s, several companies began developing wide-format inkjet printers for the graphic arts industry. In 1984, Roland DG Corporation introduced the first wide-format inkjet printer, the Roland DG Hi-Fi JET. The JET used a piezo-electric print head, which allowed for more precise control over the placement of ink droplets on the paper. Other companies, such as Encad, ColorSpan, and Hewlett-Packard, also introduced wide-format inkjet printers during the 1980s.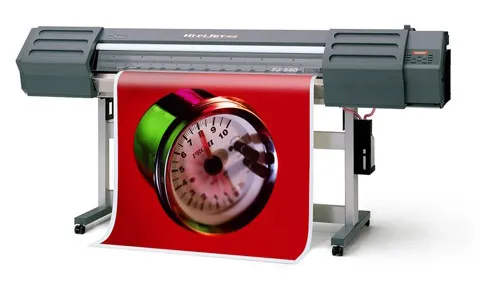 1990s: Large-Format Inkjet Printing

4.In the 1990s, advances in digital printing technology led to the development of large-format inkjet printers that could produce high-quality prints on a variety of materials. In 1991, Encad introduced the NovaJet, the first large-format inkjet printer capable of printing on materials up to 60 inches wide. Other companies, such as Epson, Canon, and Xerox, also began producing large-format inkjet printers during the 1990s.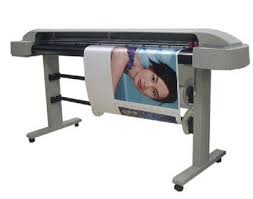 2000s: UV-Curable Inkjet Printing

5.In the 2000s, UV-curable inkjet printing technology was developed, which allowed for printing on a wider variety of materials, including plastics, metal, and glass. UV-curable inkjet printers used special inks that cured when exposed to ultraviolet light, resulting in prints that were more durable and long-lasting. Companies such as EFI VUTEk, Durst, and Océ (now part of Canon) began producing UV-curable inkjet printers during the 2000s.

2010s: Latex Inkjet Printing

6.In the 2010s, latex inkjet printing technology was developed, which used water-based inks that contained latex polymers. Latex inkjet printers could produce prints that were both durable and environmentally friendly, as the inks were water-based and did not contain hazardous chemicals. Companies such as HP, Mimaki, and Roland DG began producing latex inkjet printers during the 2010s.
Benefits of using wide format color printers for your business.
Wide format color printers can be a great asset for businesses big and small. The added size and color capabilities of these printers provide many advantages such as allowing you to easily produce marketing materials and promotional signs, banners, or posters with stunning visuals. These colorful displays are sure to captivate potential customers, offering an eye-catching result that makes your material stand out amongst competitors and reflects positively on your business itself. Furthermore, wide format color printers also offer convenience; it eliminates the need to outsource much of your printing needs and allows you to quickly create professional looking documents right in house, saving both time and money for businesses who depend on printed material.
Different types of wide format printers and their features.
Today's wide format printing technology offers a broad range of capabilities and features for businesses to choose from. Whether you need to print high-quality photos, detailed architectural plans, or large signs, you can find the perfect model for your specific needs. Inkjet models offer a cheaper solution over their thermal counterparts with crisp images in vibrant colors and sharp graphics. Thermal options provide faster output with no running cost per page, but tend to be more complex and expensive. Eco-solvent printers use unique ink chemistries for outdoor durability, producing weather resistant prints on any materials like vinyls, banner material and more. Solvent printers are also capable of handling extreme color saturation on specialty media like window clings and vehicle wraps. By choosing the right printer for your application, you can be sure your prints will turn out great every time!

How to choose the right printer for your needs.

Choosing the right printer for your needs can be a tricky task. Depending on what you need to print and how often, you may require a specific type of printer. Consider features such as speed, connection options, efficiency and quality of printing. Research the different types of printers available and consult with a salesperson at the store to make sure the chosen printer has all the necessary features for your specific purpose. You will also want to compare prices of models with similar or equal features. Investing in a good quality printer from an established brand ensures your new purchase will last you for years to come – but don't forget about ongoing expenses like ink!
Tips for maintaining a wide format printer and keeping it in optimal condition.
Wide format printers are valuable tools for any home or professional office, as they can be used to produce large-format prints with ease. However, it's important to invest some time into keeping your printer in optimal condition in order to ensure that it operates efficiently and produces high-quality results every time. To this end, one should inspect their printer regularly for dust buildup, test the nozzles periodically, keep extra cartridge packs on hand, use fabric gloves when changing cartridges or cleaning the print head to reduce fingerprints and contaminations, and purchase outside supplies whenever possible. Following these tips will help you maintain a wide format printer and make sure that it functions optimally for years to come.
Common issues with wide format printing and how to troubleshoot them.
Wide format printing can be tricky to master! These highly technical systems are all unique, so it is key to familiarize yourself with the equipment before using it. Common issues that arise include blurring, smudging, inaccurate sizing, and poor ink coverage. To troubleshoot these common problems, start by performing a full calibration on your system, then check for any errors in your file or resolution settings. Lastly, if necessary you can use a small test print to diagnose any other potential issues before running a full production. With persistence and patience and you are able to unleash the full potential of large format printing machines.
Ultimately, wide format color printing technology is a powerful tool that can help businesses become more efficient and effective. With the right printer, businesses can optimize their workflow and cut costs in the long run. Additionally, regular maintenance and proper troubleshooting techniques will ensure that your print jobs remain mistake-free and produce consistent results quality. If you are considering integrating wide format printing into your business, we hope this article has given you all the information ideal to make an informed decision. With all of the potential advantages offered by wide format color printing technology, many businesses are making it an essential part of their operations, and it might just be the perfect fit for yours as well!