Despite the low price of budget printers, they can come with additional features (such as copying and scanning), and the print quality compares to that of expensive models. Of the five models presented below, based on price and quality, for first place we chose the Canon Pixma TR4520. In second place — Epson Expression Premium XP-7100.
A small budget doesn't have to mean that you can't take advantage of modern printers. Aside from printing, scanning, and faxing photos and documents, modern printers connect wirelessly, for convenience, and can be quite compact, for use in small spaces.
Inexpensive printers usually use inkjet printing technology, which can be quite expensive to maintain (if, for example, you print a lot of high-quality, color photos or documents). However, no matter how reliable a printer is, its mechanical elements may wear out over time and require replacement. Laser printers are available, though they're recommended for printing mainly black-and-white documents. Therefore, when choosing a printer, you must determine how you intend to operate it.
The printers recommended below are not the most modern, but they're still manufactured and are not inferior to the latest models. After all, new models sold by manufacturers are not very different from previous ones.
Below are the best printers you can purchase at a fairly modest price!
1. Canon Pixma TR4520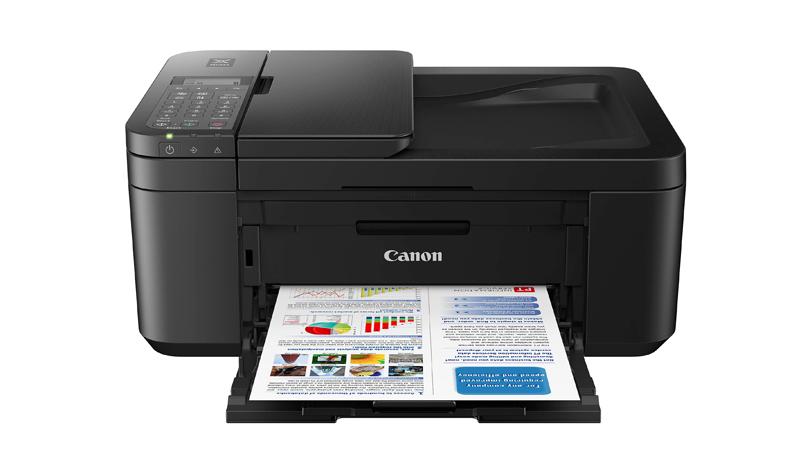 This is the best printer for homes and small offices. Thanks to its cubic shape, it's easy enough to find a place for it. It has a full range of functions: printing (includes double-sided), scanning, and copying (includes automatic document feeding), as well as fax capability. The Pixma TR4520 has support for remote printing via Wi-Fi, and you can connect your smartphone or tablet to it. Finally, with the help of Amazon's Alexa, you can control it with voice commands.
For printing, the Pixma TR4520 requires two cartridges (black and color, standard or increased capacity). You can print photos, but only 4 by 6. However, if you print a lot of photos and images, then be prepared for the high cost of consumables (ink). Pixma TR4520 is a printer for moderate operation.
The disadvantages of this printer include a lack of touch screen, a small tray, slower print speed, and the high cost of ink for those who plan to print frequently in color.
Find the supplies for Pixma TR4520 here.
2. Epson Expression XP Premium-7100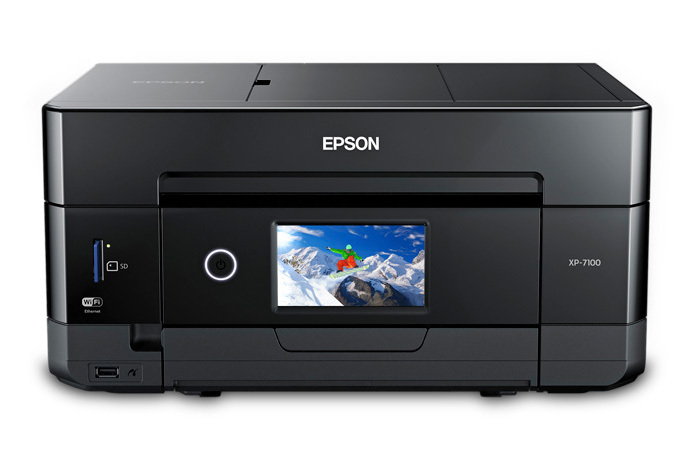 The ideal multi-functional and low-cost printer for photos. This printer is capable of mixing five colors (black, photo black, cyan, magenta, and yellow) and printing any shade so that your photos are of high quality and more realistic (be sure to use high-quality photo paper for the best outcome).
Due to its cube shape, the XP-7100 is compact and won't take up much space. It's also convenient to control the printer's functionality through the touch screen.
You can connect a flash drive or SD card with your photos on it to the printer. Or you can print photos directly from your smartphone or tablet, as this printer supports a Wi-Fi connection and services such as AirPrint, Android, Fire OS, Mopria, and Google Cloud Print.
Since this printer is multi-functional, it is also able to copy and scan (at the same time). The print speed is quite high, but of course it can't be compared to that of laser printers.
The disadvantage of this printer is a small paper tray (only 100 sheets), as well as the high cost of consumables, their capacity, and the required quantity (five cartridges are required). So be prepared for the cost if you print a lot of photos.
Find the supplies for Epson Expression XP Premium-7100 here.