Instant print cameras have been popular for a long, long time, but they're seeing a renaissance now.
As an expantion of their IVY product range Canon debuted a pair of new instant camera printers for shooting and sharing prints on the go.
Following last year's release of the Canon IVY mini photo printer which can produce 2×3-inch prints on Zink zero ink sticky-back paper, the brand is expanding with two new products that will add camera functionality and more print options.

IVY CLIQ
This instant camera-printer is capable of printing 2×3-inch and now 2×2-inch Zink prints that is user selectable with a button. Users can also easily reprint the last photo again with a new reprint button. It's a 5-megapixel camera that features a square selfie mirror and auto-flash. There's a microSD slot for capturing and exporting photos and a USB port for charging. The IVY CLIQ is the same size and weight as the original IVY printer and comes in three vibrant colors: ladybug red, bumblebee yellow, and ocean blue.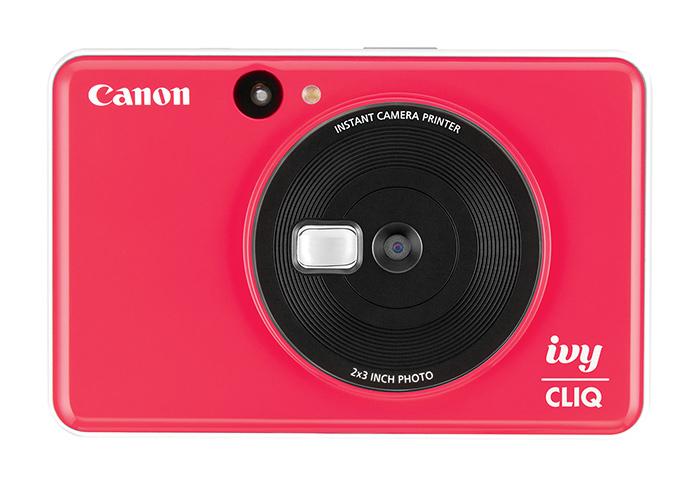 IVY CLIQ+
The plus version adds and enhances even more features for the instant camera printer. The IVY CLIQ+ features a higher resolution 8-megapixel camera and a much larger selfie mirror with ring lighting. The ring light can use either 8 or 4 LEDs and the flash can be set to either Auto, Fill, or Off. A custom shutter sound can also be set, or the digital sound can be disabled altogether.
Another added feature is the ability to use Bluetooth and connect to the free Canon Mini Print App to print images on the IVY CLIQ+ from smartphones. Note that photos taken with the instant camera will not be able to upload to the app; it only works from app to printer. Using the Mini Print app, remote shooting with the IVY CLIQ+ is possible.