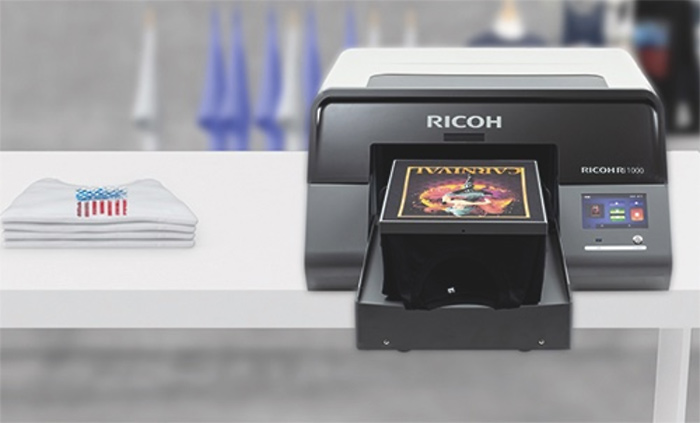 Two new Ricoh printers are rolling out into the market in the upcoming months.
The new is designed for entry- and mid-level operations and will use its new sign and graphics inks.
While pricing is not reveiled yet, Ricoh said it would be benchmarked against all flatbed devices with 2.5×1.3m table sizes.

The Pro TF6250 will be more focused on the sign and graphics sector or to new customers who would like to introduce for the first time a flatbed device into their organisation.
Also new is the Ri 1000 direct-to-garment (DTG) printer, which, according to Ricoh, was designed with a wide range of user requirements in mind.
New features include higher print resolution, extended printable area and snap-on print tables, including a new shoe platen.
The Ri 1000 prints full-color graphics at 1,200 dpi on garments of a diverse array of materials, colors and sizes. Users are provided with a variety of print options thank to the Quick change magnetic platens, available in multiple styles and sizes up to 406x498mm.
These platens easily snap on and off the machine, so switching between different garment styles and sizes happens virtually in no time.
The machine's special carriage and table design helps to keep garments flat and in place while printing.
Apart from having a higher resolution and wider printable area compared to the Ri 3000, the Ricoh Ri 1000's design is focused on the ease of use in mind, with features including automated maintenance sequences and a touchscreen display.