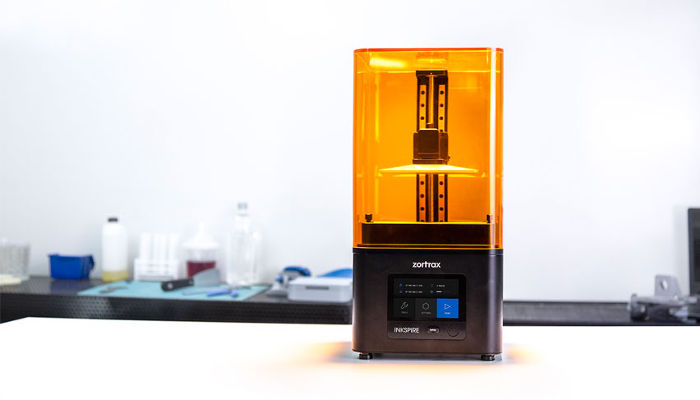 Polish 3D printer manufacturer Zortrax has released the Zortrax Inkspire, the company's first desktop DLP 3D printer which marks the company's entrance into the the resin 3D printing market.
The DLP technology uses a digital projector screen to flash a single image of each layer across the entire platform at once. Because the projector is a digital screen, the image of each layer is composed of square pixels, resulting in a layer formed from small rectangular bricks called voxels.

The Zortrax Inkspire uses a high resolution LCD screen and UV LED backlighting to cure photopolymer resin layer by layer.
50×50 microns XY resolution and 25 microns minimal layer height make the printer up to 9x more precise than leading SLA 3D printers. With such precision, the Zortrax Inkspire is ideal solution for jewelers or dental prosthetists.
Moreover, since the entire layer is projected onto the photopolymer's surface all at once, the polish 3D printer is also up to 8x faster.
The Zortrax Inkspire has a max build envelope of 2.9 x 5.2 x 6.9 in. It can work as a basic production unit making 50 to 80 parts in 1h 30min.
http://www.3ders.org/images2018/zortrax-enters-resin-3d-printing-market-with-zortrax-inkspire-3d-printer-3.png
77 HDMI cover caps produced in a hour and a half.
The system is scheduled to be released in fall of 2018, and will cost around $2,699.