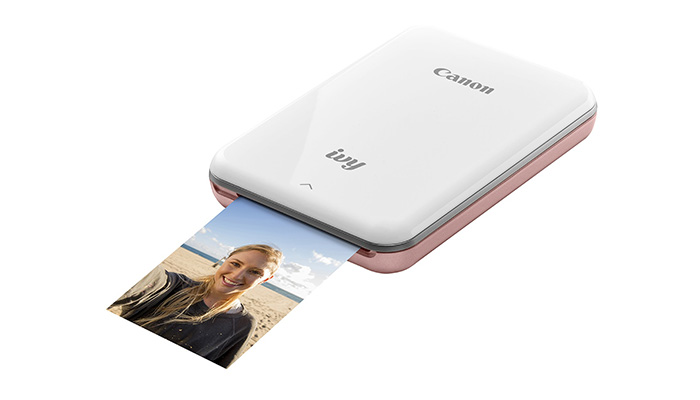 Canon has just announced IVY, a new compact photo printer that lets you create tiny prints on the go without any hassle with cables.
The IVY itself measures just 4.7×3.2×0.7 inches (11.9×8.1×1.8 cm) and weighs 5.6 oz (160 g), so you can carry it around in your camera bag without it weighing you down.

You won't need any cables around when using the printer, as it's powered by a rechargeable battery and it communicates with your devices through Bluetooth 4.0.
After connecting to the app using the Canon Mini Print app on an iOS or Android device, you can apply things like creative filters, photo frames, stickers, photo edits, and augmented reality face distortions.
The printer uses ZINK Zero Ink technology, creating 2×3 photo prints and stickers without the use of ink cartridges. Both the prints and stickers are water-resistant and smudge-free. You can also automatically print a photo as a large photo mosaic made up of 4 to 9 individual 2×3 prints.
Each print out time is as little as 50 seconds.
The Canon IVY Mini Photo Printer is available now in Rose Gold, Mint Green, and Slate Gray with a price tag of $130. The photo paper will be available in packs of 25 and 50 sheets for $10 and $25, respectively.