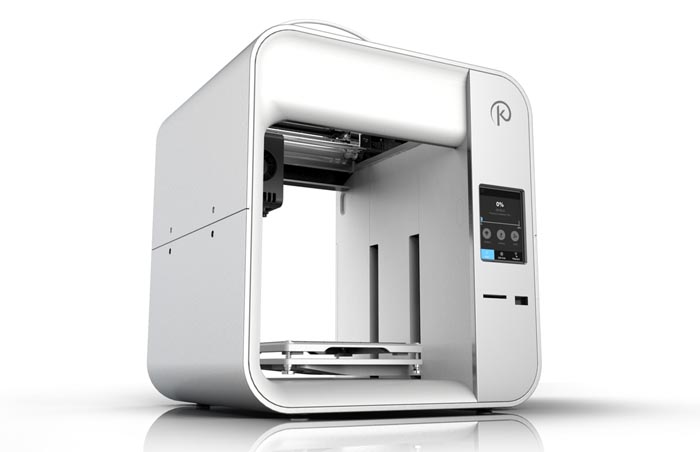 Kodama is a San Francisco-based company providing unusual 3D printing solutions and unique designs. For example, its Trinus 3D printer doubles as a laser engraver. This time, it has solved the problem of unpresentable design, high price and unreliability of modern 3D printers—with its Kickstarter project—Obsidian series of printers.
It includes three models: the Obsidian—a stylish and reliable $99 3D printer.
The Obsidian Plus—featuring an LCD touchscreen for easy access and operation and a USB/SD card-connectivity allowing to input 3D designs manually. It costs $149 including 400 g roll of filament for printing.
The Obsidian Deluxe—with the Smart LCD touchscreen, additional heated bed and iOS/Android-compatible for controlling the print jobs remotely, it also possesses a camera to watch the process from outside the room and to record it for subsequent sharing via social networks.
The three models possess sleek design and can be a part of a fashion interior. Each prints at a minimum XY resolution of 50 microns with a print speed of 70 mm/s, and can build objects in a space of 120x120x120 mm. Together with PLA the gadgets use complex materials such as Nylon, ABS, PETG, and more. It supports the major slicers and has an open firmware based on Marlin.
The startup has already gained $1 Million on the Kickstarter, and the gadgets are expected to ship in December 2017.