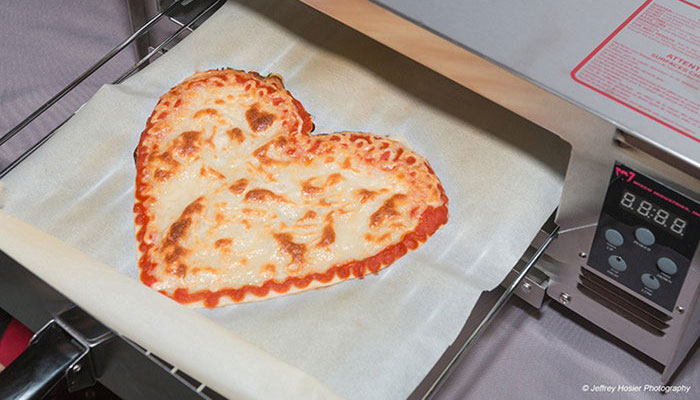 With all the plans about long lasting space missions including that to the Moon and Mars NASA is thinking how to feed astronauts who take part in these occasions. There are several problems concerned with this one: food can't be kept fresh for a long time; today's existing way of space feeding includes freeze-dried "space food", which requires additional spacecraft resources for refrigeration and freezing; and this kind of food is everyday the same.

In 2013, NASA awarded a $125,000 contract to Systems and Materials Research Consultancy of Austin to research 3D printing as a making food method. Now, the startup BeeHex has got $1 million in seed funding for producing Chef 3D printers, which use fresh dough, cheese and tomatoes to make pizza.
3D printing technology solves the above mentioned problems easily. The gadgets use powder (which can be kept fresh very long without refrigeration) instead of ready-made dough and tomatoes and mix them into further pizza ingredients. And also the Chef 3D printer provides printing pizza in different shapes helping to personalize the food. It will take about 5 min in the oven to get a ready pizza which is very good result in the requiring saving of energy environment. In the addition to this, the gadget is designed to automatically clean itself, which is incredibly convenient if we remember the separate nozzles adding the sauce and the cheese.
If you already envy the astronauts, there is a good news: BeeHex is adapting this printer for Earth as well!