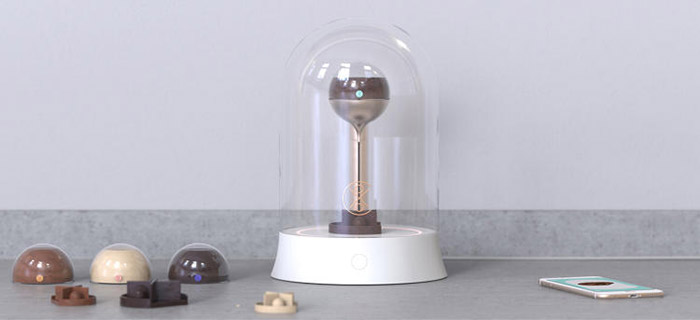 The news has come from Utrecht, the Netherlands, where a product designer specializing in 3D printing Michiel Cornelissen has managed to create an unconventional 3D printer for custom-made chocolate. The 3D printed food market is already full of different kinds of gadgets creating various kinds of products from a wide range of ingredients. But this one differs from the others with its special design allowing not only to create chocolate, but also to make a stylish show out of this process.

The XOCO printer consists of a circular light-up build platform and a tiny robotic arm that can reach anywhere on the platform, what provides greater flexibility for more complex designs. All this is encased in glass—which is held up by the pillar in the center—for one to watch the process unfold.
A library of chocolate designs will be available through a special app, with the help of which anyone—from pastry chefs and chocolate shopkeepers to individual unprofessional users—can choose and customize his own intricate chocolate design. The gadget uses chocolate as a material and prints the product layer by layer.
The inventor hopes the XOCO 3D printer cost between $500 and $1000 and now is searching for a sponsor to produce the devices for the market.