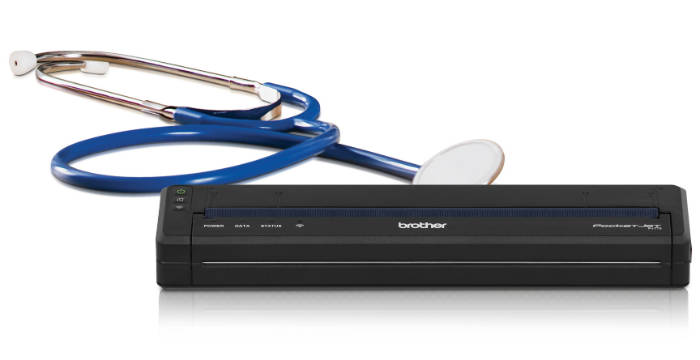 Pest control, transportation, public safety, field services, home healthcare now have got a super solution making their services more efficient and client-friendly. Brother's PocketJet® 7 mobile printer has been specially introduced to healthcare professionals a short while ago at the NAHC 2015 Annual Meeting and Exposition.

The novelty is a compact full-page mobile thermal printer and the last addition to the PocketJet series. Its main advantages are portable design, faster than a predecessor's print speeds of up to 8 ppm and longer battery life, complete mobile printing compatibilities.
8.5″ wide print head
Replaceable rechargeable Li-ion battery available
Only one consumable – direct thermal media on cut sheets, continuous roll or perforated roll
Simplified, space-saving in-vehicle mounting options
Compatible with traditional PC and Mac drivers
USB interface standard; models available with Apple AirPrint, Wi-Fi or MFi Bluetooth technology
The model provides easy printing from almost any mobile, smartphone and tablet with no need of an additional driver. And the printing process could be represented in any work environment – mounted in a vehicle, carried in a briefcase, transportable to a jobsite. So that the specialists working out of office – like home healthcare professionals – could provide better service, more convenient both for the specialist and the client and give the needed documents right away.