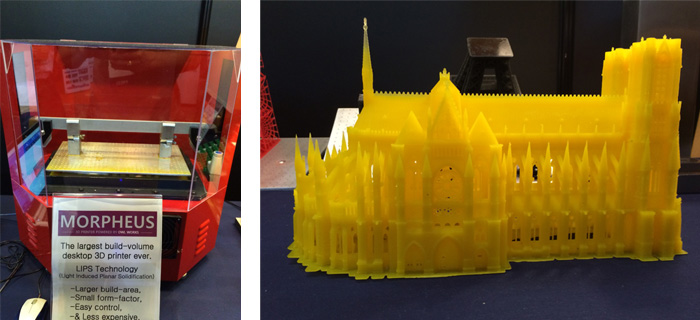 The Inside 3D Printing Seoul Conference & Expo took place last week and welcomed already launched as well as not exported from South Korea yet 3D printers. One of the specially marked machines on the expo was featuring the unique technology Morpheus printer by Owl Works LLC.

The Morpheus printer uses resin, but not SLA as a material. To cure resin this gadget doesn't need a laser or a DLP projection, but a new process called LIPS (Light Induced Planar Solidification). A commercial grade LCD creates photo masking of the object being printed in the resin tank. Than the UV LEDs cure the resin layer by layer spending about 30 seconds on each one. If this process proofs itself alright, it may become a new 3D printing technology.
The Morpheus printer is being created to be "The Largest Build-volume Resin 3D Printer Ever," and with the announced size for the machine are 13" (w) x 7.1" (l) x 7.9" (h) it really is.
By the way, the startup company is said to be called Owl Works because the team behind the Morpheus 3D printer works at night and the printer itself was named after the resistance leader in the Matrix films famously played by Lawrence Fishburne.
The Owl Works will be launching a Kickstarter for Morpheus in late July. The printer will be priced at $3,800.00 for backers.