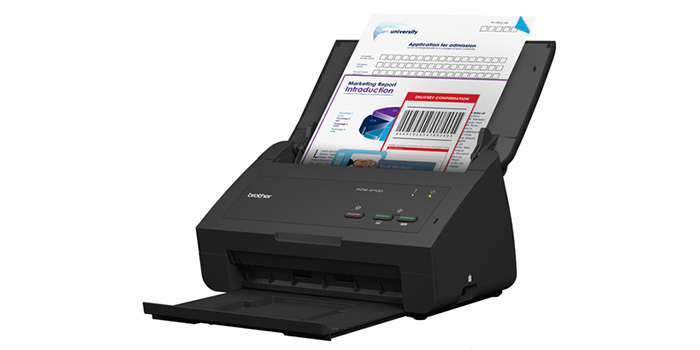 This summer's novelty—a desktop document-scanner Brother ADS-2100—doesn't make great impression from the first time. But it shows all its good sides from the closer view. Earlier, the Brother family of scanners was represented by DS-600 and DS-700D; both models belong to the other than the new one mobile and compact class of scanners. The new model aims for home and small office use and is customer-friendly easy-to-operate device.

The scanner is run in 3 simple steps:
Make sure the device is adjusted to a PC;
Choose a document;
Push the button (more details can be found in the User's manual on the DVD, which goes with the scanner, or on the official Brother site, not in the printed booklet, which is much handier).
After the installation, a special app ControlCenter will help customize scanning to a PC and to a USB-flash options. The device has a compact design and intuitive interface; there are only 3 buttons and 2 indicators on the front panel (the buttons "Stop", "Scan to USB", "Scan to PC" and the indicators of power and occurred mistakes like paper jam).
There are several possible variants of the output:
Scanned to an image file (bmp, jpeg, tiff; multipage tiff, png, pdf; reduced pdf; protected pdf, xps),
Directly to the chosen from the list image editor,
To OCR—scanned and converted into text (html, xls, rtf, wpd or txt),
Directly to a text file, choosing its direction: local folder, FTP-server, E-mail,
Directly to a USB-flash (bypassing a PC).
Among absolute advantages should be mentioned:
Decent scan speed with the low resolution of 150, 200 and 300 dpi,
Simplicity of use, while scanning multipage documents,
Support of the USB-flash scanning, rare for this scanner segment,
Duplex scanning.
Brother ADS-2100 won't show all its potential during seldom home use and won't cope with rather high stream mode, but it perfectly suits the needs of small office. Moreover, its price is very attractive (about $300), comparing with the closest competitors in the class—Canon DR-3010C, Canon imageFORMULA DR-M160 or Xerox DocuMate 150.