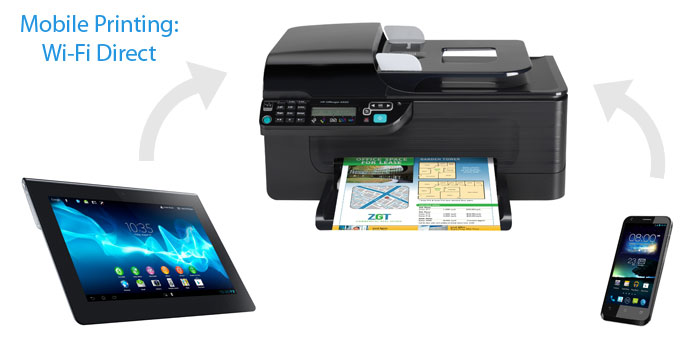 Printing from a mobile device is not a mystery nowadays, moreover, it becomes more and more popular. The number of devices with wireless access (TVs, videoplayers, computer peripherals and so on) grows every day, in particular in the area of printing. With new technologies, the direct connection of a mobile device to a printer is available for effective managing of office workflows. There are at least 5 common ways for this process: Apple AirPrint, HP ePrint, via Mopria Alliance apps, Near Field Communication (NFC) and Wi-Fi Direct, which will be our today's topic.

Wi-Fi Direct
This is a Wi-Fi Alliance technology, which allows two or more Wi-Fi Direct-enabled devices to connect to each other, but directly, with no need of a router or an access to a Wi-Fi network.
The simplest way to pair the gadgets is physical buttons—to press the button on gadget 1 and then the same one on gadget 2.
If it's not available, a user should:
1) make sure there is an app on the mobile device (which allows connecting to a printer),
2) if it's not on by default, in the printer network settings choose Wi-Fi Direct,
3) run the app on the mobile device,
The group organizer (G/O) could be either the printer or the mobile and will send a connection request automatically, the user should confirm the request. In other case:
4) choose the printer from the list of available devices (there will be only Wi-Fi Direct-enabled ones) on the mobile device,
5) confirm the choice, and enter the PIN-code, if needed.
When two or more devices connect directly, they form a Wi-Fi Direct Group, using Wi-Fi Protected Setup and the latest Wi-Fi security.
If the Wi-Fi Direct connection was established successfully, the both devices would see each other, and the user can now choose the document on a mobile device and send it to the printer.