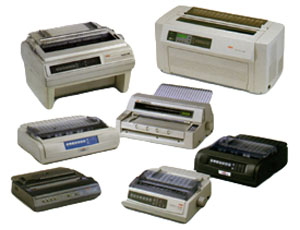 In spite of the fact that laser printers have become affordable over the years, they won't force out matrix printers from the market. Jet printers – another popular family of printers – won't make it either. The reason lies in the printing technology: while laser and jet printers are so-called nonimpact printers (they don't interfere with paper), the pins of matrix printers strike ink directly in the paper. To leave prints of letters on the paper is the function of impact printers, and it is necessary or desirable in many areas (for example, while preparing the documents or missives). One more reason of success of matrix printers hides undoubtedly in lower cost of consumables. Flexibility of matrix printers is also important. Quite often one device combines availability to print on the rolled paper and single sheets, in black-and-white or color mode – and only few preparatory operations are needed. Moreover, the matrix printing technology has stood the test of time, and such printouts could be of rather high quality. That's why this market is still full of offers. Meet the short reviews of the popular dot matrix printers of the famous brands.
IBM 4230 Dot Matrix Printer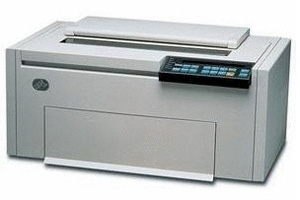 This reliable and noiseless printer shows great performance in the most rugged environments and possesses robust functionality. To the advantages we should add its innovative forms-handling features (auto-forms load and thickness adjustment). Paper jamming is minimized. The machine supports visual communications with all-points-addressable graphics capability and most business application software packages. Wide variety of servers is available to it.
Up to 600 characters per second (cps) in fast draft quality,
up to 100 cps in near letter quality mode,
compact design,
easy-to-use control panel.
Panasonic KX-P 1131e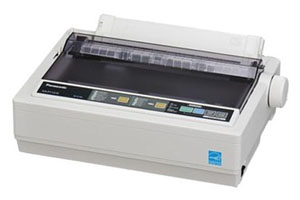 It is a 24-pin serial impact dot matrix printer with awesome features like versatile paper handling (prints on different types of paper, doesn't waste any paper forms) and excellent print quality. The machine has user-friendly design and possesses the availability of using different types and sizes of fonts. Wide ribbon cassette has a 6 million character capacity.
6 internal scalable fonts,
10 resident bitmap fonts,
from 8 to 32 points font size,
360 x 360 dpi resolution,
pinbelt tractor feed,
all switches and levers are accessible from the top of the unit,
interface: USB 2.0, serial, parallel,
emulation: ESC, P2,
Mannesmann Tally MT 130/24
This printer has a streamline design. Quality of the printed pages in draft mode is better, than in many other dot matrix printers. The complete set of accessories is delivered with the printer. Its advantages include high print speed, good font print and in the whole broad functionality.
24-pin print head,
3 fonts,
font cartridge port,
optional automatic feeder,
from 17 Kb (standard) to 33 Kb (maximum) buffer memory,
parallel and serial (optional) interfaces,
printer emulation: Epson LQ, IBM Proprinter.
Oki Microline 390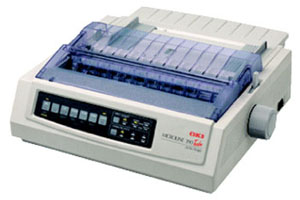 This printer has a compact design and shows quite good productivity. The quality of the printed documents is excellent. One can distinguish 10 shades of gray. Buffer memory with a capacity of 8 Kb can be expanded to 40 Kb. The replacement of the ribbon is quick, easy and clean.
24-pin print head,
automatic feeder,
6 fonts,
font cartridge port,
390 characters per second,
optional automatic feeder,
from 8 Kb (standard) to 40 Kb (maximum) buffer memory,
parallel and serial (optional) interfaces,
NEC Printwriter P70
The massive design of this printer inspires trust. In its output 10 shades of gray are distinguished. Various accessories are delivered with the printer. One will replace paper and ribbon in a flash. It is a rugged and reliable multifunctional time-proved device.
24-pin print head,
8 fonts,
font cartridge port,
optional automatic feeder,
from 80 Kb (standard) to 88 Kb (maximum) buffer memory,
parallel and serial (optional) interfaces.