The technology of near-field communication (NFC) is a frequent guest in modern mobile devices and TV-panels. Wasting no time, Brother has employed it in a new sphere–printers.
This year Brother has announced a new color inkjet printer MFC-J870dw for home and small offices. On the whole, it wouldn't differ much from the other-branded printers in this price segment, if not for NFC, which immediately puts it above the other machines. This innovative technology allows users to connect the printer from their mobile devices "by one touch" for the direct printing or scanning, at that purpose, no wireless network is needed. Wireless printing is available via Google Cloud Print, Brother iPrint&Scan, Cortado Workplace.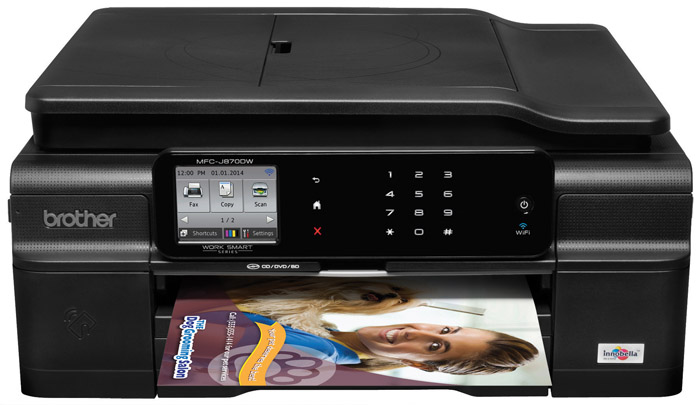 Brother printers of the new Work Smart line significantly boost productivity by such options as Ethernet, Wi-Fi Direct (without a router or wireless network as well).The option of CD/DVD printing from a front-loading tray may seem unusual, but broadens MFC-J870dw's functionality.
In the SOHO segment Brother pays special attention to the simplicity of operation. For this reason, the new network tool–Wireless Assistant–is used in all the models of the Work Smart line. It doesn't need a USB-cable or password and doesn't cause any problem with installation.
MFC-J870dw comes with the software, which provides convenient scanning with the function of dragging, comparable with popular apps. Intuitive TouchScreen Display is equipped with TouchPanel, which lights the exact keys for the user to complete the definite operation.
Though the actual performance of the printer, according to the users' tests, may seem average, this model has it's essential pros, including the above mentioned. They are reasonable price for the printer itself and for the cartridges, it's advanced functionality, fine quality of the output and high print speed.