Earlier this summer Ricoh announced a new line of color MFPs with a range of advanced features. It will replace the previous models in the segment of primary systems for the offices with intense workflows. Some of the features really improve the work of the machines and could significantly boost productivity and raise the business on a new level.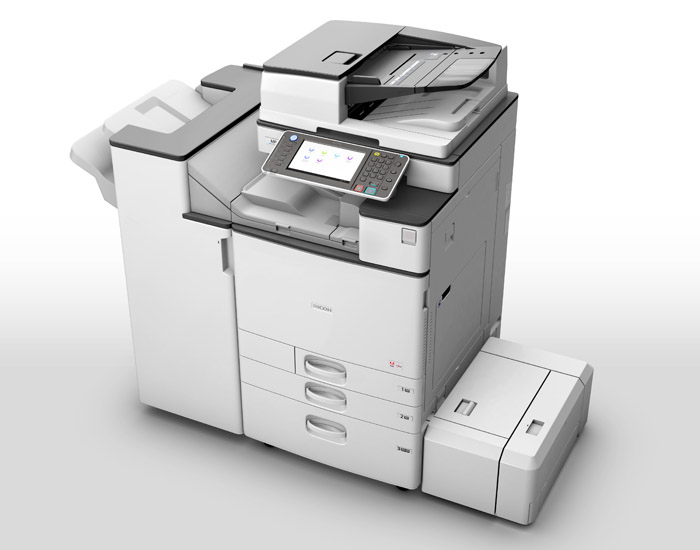 shortens the waiting time. In addition to the high printing speed of 30/35/45/55/60 ppm, the printers have rather short warm-up time: less than 20 seconds. The first page comes in 4.6 seconds in B/W and in 7.3 in color. Automatic Document Feeder allows images to be scanned much faster – at the speed of 80 images per minute. For those, who do much scanning, Single Pass Document Feeder (SPDF) is recommended for even more swift working.
Small size and appealing design
New Ricoh machines require less space, comparing with the other-branded machines of this class. This is achieved with integration of duplex and finisher (and saves space in a small office), while external finishers are also available. Every model could be ordered with a new Smart Operation Panel instead of a standard one. The new panel features big sensor display to provide the navigation of a smartphone, based on the Android OS.
Improved image quality
This feature is declared by the producer as the significant one, which sets new line apart from the previous devices. New PxP toner helps to get printouts of highest quality similar to that of offset printing; it sharpens details, smoothes rendition and lowers image granularity.
Support of different types of paper
As an option, the SRA3-format (320?450 mm) is available, what is a big advantage for a design or graphic business. These printers deal with much thicker paper, which results in higher quality professional output. The standard paper tray for 4,700 sheets can hold different paper sizes, including envelopes.
That's already enough to make a decent MFP! But it is not all. Ricoh has provided such options as mobile printing (available from any smartphone, tablet or laptop), printing from SD-card via the integrated Smart Card Reader and an External Keyboard Bracket (which allows to connect a keyboard through USB). Add the lowest level of energy consumption in the class and the significant noise reduction, and you'll get the picture of this new beautiful MFP.