It is not a secret that the cost of the ownership of some printer models is much higher than the cost of the printer itself. Epson made an effort to solve this problem in an unusual way. An MFP L550 is rather expensive, but the output in exchange is almost free. Epson has designed a new line of printers and MFPs with the original continuous ink system. This allows to print big volumes of documents, using chip genuine ink of the guaranteed high quality.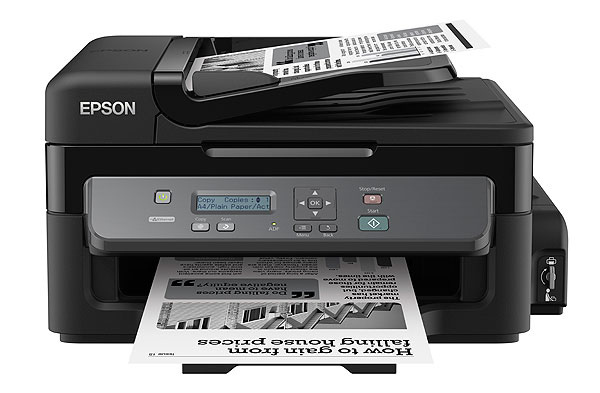 The flagship L550 is built on the base of the 4-color printer and is perfect for the work with the color documents. One can still print satisfactory quality photos, while the speed of their printing is much higher then that in the base model of L200. Each ink bottle is about 70,0 ml and there are 2 additional extra black ink bottles in the box. One set of bottles will print up to 4,000 pages in B/W (it's about 12,000 in total, which the owner gets with the purchase) and 6,500 pages in color.
The device possesses all the necessary features of a sound printing device. Though its design is laconic, it has broad functionality. The MFP supports Epson iPrint, so that scanning and printing from a mobile device under iOS and Android are available.
This model will particularly satisfy the needs of printing big volumes of color documents on pretty high speed.
Epson L550 Specifications:
Print technology: Inkjet (Piezo electric);
Number of print supplies: 4 x 70ml individual ink bottles (Bk,C,Y,M) plus 2 extra black ink bottles;
Printing resolution: up to 5.760 x 1.440 dpi;
Printing speed: 33 Pages/min Monochrome, 15 Pages/min Color;
All-in-One Functions: Scan, Copy, Fax;
Scanning Resolution: 1,200 dpi x 2,400 dpi;
Input tray: 100 sheets;
Output tray: 100 sheets;
Duplex printing: manual;
Connection options: USB 2.0, Ethernet 10/100Base-T;
Supported OS: Mac OS 10.5.8 or later, Mac OS 10.6+, Windows 7, Windows 7 x64, Windows 8 (32/64 bit), Windows Vista, Windows Vista x64, Windows XP, Windows XP x64;
Dimensions: 18.96 x 15.08 x 9.04 mm;
Weight: 13.6 lb