Samsung Electronics announced the launch of ML-4510/501X series printers expanding line of printing solutions for the B2B sector. The new models are designed for small and medium-sized businesses, these are monochrome laser printers. The printing speed of Samsung ML-4510ND is 43 A4 pages per minute, while the ML-5010ND and 5015ND models produce up to 48 pages per minute. First page out time is 7.5 seconds in ready mode and 16 seconds from standby mode.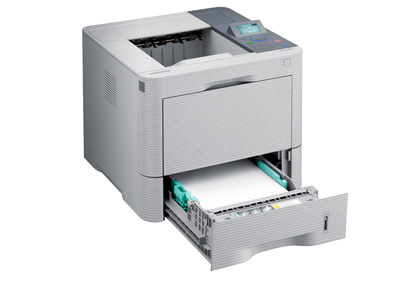 The new printers are equipped with 600 MHz dual-core processor and have 1 Gbps network adapter. The dual-core processor also manages the printing preparations and simultaneous printing of various tasks, so the company believes that the devices are suitable for workgroups of 10-20 people. With two 100-sheet paper trays, total input capacity of Samsung ML-4510/501X series increased up to 620 sheets.
In printers of Samsung ML-4510/501X series, the drum needs to be replaced after printing 60,000 pages, and high capacity toner cartridge, Samsung ML-501,X allows you to print up to 20 000 pages. To save toner, you can select ECO mode, which automatically enables duplex printing and skips blank pages. Samsung ML-4510/501X series printers produce noise level of less than 54 dBA and are operated using a 4.3-inch LCD touch screen (the ML-4510ND and ML-5010ND also have a numeric keypad). In addition, the USB port in the models Samsung ML-5010ND/5015ND makes it possible to print from a flash drive.