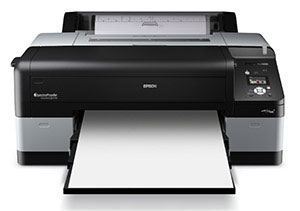 The Epson Company unveils new wide 17-inch printer Epson Stylus Pro 4900 setting new standards for color accuracy on the market of photo printing and proofing. This compact printer delivers the best print quality professional photographs and art images, provides excellent color uniformity and color accuracy, and can reproduce 98% of the entire range of colors PANTONE ®. High level of automation printing and reliable mechanism make the Epson Stylus Pro 4900 productive workhorse for offices creative agencies and photographic studios.
With the ability to play the maximum gamut Epson Stylus Pro 4900 allows you to create truly high quality photography and artistic images. Printed colors are identical to the original image even when printing on media of different types. Additional SpectroProofer spectrophotometer provides accurate color on various materials and automatically measures the color table to create profiles of ICC.
Each print represents a sample of perfect color. This is provided by top-notch color matching capabilities, as well as 11 Epson UltraChrome HDR color inks and accurate positioning of ink droplets through the Advanced-TFP printhead. Ink and technologies used in Epson Stylus Pro 4900are in full compliance with the technologies used in professional wide-format Epson Stylus Pro printers for commercial printing.
In autumn 2010, the exhibition Photokina, the printer Epson Stylus Pro 4900 won the Photokina STAR, which confirms its print quality is recognized by the expert community of professional photography.
The Epson Stylus Pro 4900 allows you to significantly improve performance: printing speed of 46 m2 per hour with minimum maintenance. Paper tray high capacity makes it easy to load paper, and an automatic change of the carrier can not waste time when you switch between sheet and roll fed paper. The printer also automatically switches between black inks for matte and glossy paper. In this case, both types of black ink are installed in the printer at the same time to avoid stopping in print circulation. All ink cartridges are supplied in a high capacity to reduce the number of substitutions and overhead costs.
The Epson Stylus Pro 4900 is ENERGY STAR compliant; its energy-saving features can cut costs, reduce environmental impact and energy consumption.
Key Features:
11-color UltraChrome HDR ink set
98% coverage of PANTONE colors
Robust Advanced-TFP printhead
Print speed 46 m2 per hour
Front paper tray high capacity
Cartridge 200 ml
Additional SpectroProofer spectrophotometer
Automatic switching between sheet and roll paper
Automatic switching between photo and matte black ink, both black cartridges are installed simultaneously
ENERGY STAR Compliance
Selecting the paper path — the front tray, manual feed cardboard top and front, or roll
Print on thicknesses up to 1.5 mm