In Cologne at Photokina 2010, Hewlett Packard introduced a series of high-performance professional large-format photo printers, Designjet Z6200. New products offer the highest performance among the large-format photo printers in its price category.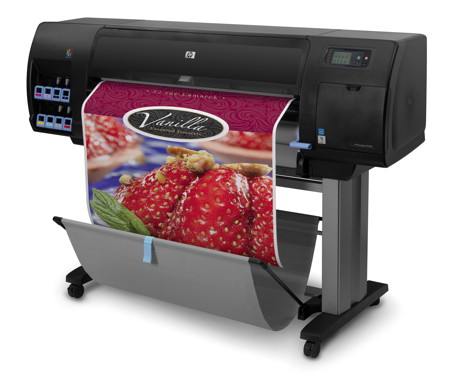 HP Designjet Z6200 series plotters are designed for minilabs, digital mini-printing houses, advertising agencies, design companies and commercial printers. The device provides a print resolution of 2400 dpi and is suitable for the production of very different print products – from drawings and photographs to the signs and advertisements. This series' printers print up to 50% faster than previous models – at a rate of up to 140 sq. m / h.
The series uses new photo ink HP Vivid for photographic printing, which allows higher scratch resistance, high and uniform gloss and a wider color gamut with deeper shades of black ink than the old HP. In 8-color printing system, new printers are used chromatic red ink HP, allowing cover to 88% color gamut Pantone. In this case, new printers can save up to 44% ink compared with the same printing technology HP.
"The new generation of HP plotters, enables customers to quickly bring to market new products and services that meet the changing needs of clients – says the vice president and general manager of solutions for graphic printing HP in EMEA Santiago Morera. – HP Designjet Z6200 Photo Printer copes with this task and offers the highest printing speed of any printed products, including those of highest quality."
At the Photokina exhibition held in Cologne, Germany from 21 to 26 September 2010, HP introduced the prints made with a new application, Large Format Photo Negative, a HP Designjet Z3200 widescreen photoplotter and an ARTtrust labeling system.
The launch of the wide-format printer HP Designjet Z6200 is scheduled for November 1.