HP has announced three new inkjet multifunction printing devices: Envy 100, Officejet Pro 8500A Plus and Photosmart eStation. All three new devices support ePrint network printing service presented recently.

By looking at the HP Envy 100 e-All-in-One you can hardly say that this is a full-fledged MFP, but the device really can print (including documents sent to the mobile network), scan and copy. It is equipped with the input and output trays, which are inserted and ejected like a DVD drive tray. MFP is equipped with two cartridges (with black and tricolor – cyan, magenta and yellow inks) to print monochrome documents at 30 pages per minute and color documents at the speed of 25 pages per minute. HP Envy 100 features a 3.45-inch touch screen for both device control and for setting and working with web-applications. MFP will go on sale some of these days, the cost of the device is $ 249.
The main feature of the Photosmart eStation MFP is a removable tablet with 7-inch touch screen running the Android OS version 2.1 (version 2.2 will be available for it at the end of the fall). The tablet supports electronic book reader (with access to the Barns & Noble online bookstore), equipped with the Yahoo! search engine, but does not have access to the Android Market and has no pre-installed Google applications. It is reported that the battery life of the tablet ranges from four to six hours; the tablet interacts with the printer over a Wi-Fi 802.11b/g/n adapter.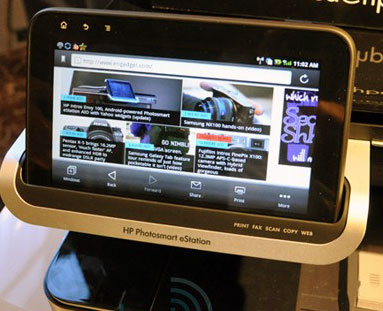 The Photosmart eStation, being a flagship device, differs from other new products by a number of parameters: it has five separate ink tanks and the maximum print speed is higher (33 pages per minute in monochrome mode, and when printing color documents — 32 pages per minute). Maximum (so-called optimized) print resolution in this model can reach 9600 x 2400 dots per inch. The unit is equipped with 64 MB of memory and SD memory card readers as well as USB 2.0 interface port.