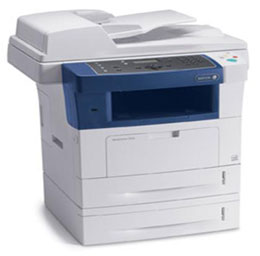 Xerox announced the launch of a new monochrome MFP A4 Xerox WorkCentre 3550 for medium and large workgroups. This unit allows you to optimize your time and money to solve everyday office tasks related to the document.
Requirements for customers SMB-segment to the equipment include a broad functionality, ease of use and administration, performance, and low cost of acquisition and ownership. WorkCentre 3550 MFP fits them perfectly.
The WorkCentre 3550 is designed to replace the market has already become classics MFP Xerox WorkCentre 4118 and WorkCentre M20/M20i. The new device not only has the advantages of its predecessors: the powerful features of the copier and the ability to replicate up to 999 with a single click, but also has a characteristic "plus". Thus, the WorkCentre 3550 significantly increased the rate of printing, copying, and the maximum load, enhanced scanner and fax capabilities, added USB connector on the front.
WorkCentre 3550 – one of the most affordable office MFP A4 duplex ADF. For this device are available as standard cartridges and high-capacity cartridges, allowing saving on printing up to 30%. So from the standpoint of the cost of printing WorkCentre 3550 is a low-cost acquisition.
The new Xerox product has high quality (1200 dpi) and speed (up to 33 pages / min.) of printing. Through the optimal combination of performance and ease of use WorkCentre 3550 allows you to reduce the time spent on routine tasks related to the document. User-friendly menu helps users to perform daily activities more quickly. USB-port on the front panel allows you to quickly print files to USB and save it on your scanned documents. Standard paper input, characterized by large capacity (550 sheets: 500 sheets – the main tray and 50 sheets – versatile) and a maximum load of 1050 pages with an additional 500-sheet tray ensure continuous printing and copying when working with large volumes of documents. A full-duplex allows you to save not only time but also paper.
An important advantage of the WorkCentre 3550 is the ability to control sensitive information. Function secure printing and faxing can postpone printing documents up until the user releases the lock using a unique PIN-code.
WorkCentre 3550 is compact and easy to administer. Remote management CentreWare ® Internet Services provide monitoring devices in real time, setting the device, viewing levels of toner and paper, and timely order supplies.