About 20, September, HP plans to present a quite interesting product, HP Photosmart eStation C510, which is a printer with a detachable Zeen tablet.
Interestingly, the tablet based on Android does not have the Gmail service, as well as Android Market application. Perhaps, Android is just a framework for the TouchSmart user interface. This device has a standard Android browser and a few Android applications to print images from Facebook, Yahoo, and Snapfish.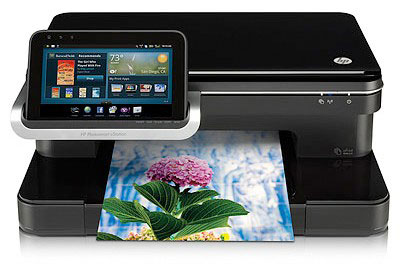 It is known that Zeen is a tablet with a capacitive screen, which runs on Android 2.1 (its retail version, oddly enough, is not equipped with webOS). The solution has an SD memory card slot, support for video, and some prototypes were even equipped with cameras.
Reading e-books is the main purpose of the Zeen tablet, that's why it has an integrated support for the Barnes & Noble Nook store and ecosystems. Apparently, user would be enabled to print books with the tablet, which will allow HP to sell more ink. The touch screen is not very accurate and generally working with the tablet is far less convenient than with a good Android-smartphone, like Droid Incredible.
Zeen come in two configurations. The first is worth $400 and come bundled with a new Zeus printer, which can connect to the tablet and provide the user with a rich interface and advanced print management settings. Also, the Zeen tablet will be sold separately, but the price is still unknown.