Epson has introduced the Epson TM-T58, a cost-effective solution for automation of small retail outlets. As the manufacturer notes, affordable price of printer is combined with durability, which ensures a minimum cost of printer ownership. The device prints at the speed of 100 mm/sec on 58 mm reciept paper. Using a narrow reciept paper allows the owner to reduce the cost of consumables. The printer can load paper rolls of a large diameter as well – up to 83 mm, reducing the time between reciept paper replacement.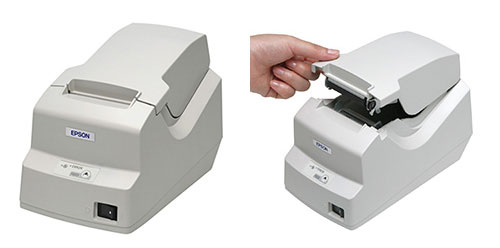 High resolution thermal printing (203 dpi) make the Epson TM T58 printer stand out from its competitors. Font scaling function and built-in bar codes provide ample opportunities for receipt design. printer retains the high speed even when receipts contain graphical objects. Compact size os the printer saves desktop space, which is relevant for use in limited area of a small POS. Easy "drop-in" paper loading allows you to quickly and easily handle the device.
Printer Epson TM-T58 is durable and reliable device with the mean time between failure of 180,000 hours. The exit slot that issuing receipts is specifically framed to protec the printing mechanism from moisture, and the lid snap-overlapping with the body protects it from dust. Strong metal mounting the housing cover will serve a long time w ithout a failure even in the hard mode of the use.