Ability to obtain three-dimensional objects using the printing device is no longer something exotic. In particular, this technology is used in the design and manufacture of prototypes and casting models. However, for the mass market the technology is virtually inaccessible because of the high cost of three-dimensional printers and consumables, although prices have been declining.
A kind of solution would be to issue individual components and kits for assembling the printer, but this approach may not satisfy all consumers. By the way, according to some projections, by 2011, prices for 3D-printers should be reduced to $1000. Maybe it's the crisis, but so far no signs of such a decline are visible.
To some extent, the situation is being changed by the products of Purple Platypus. According to the company, the BFB 3000 Panther model is the first color, three dimensional printer costing less than $4000, shipped fully assembled.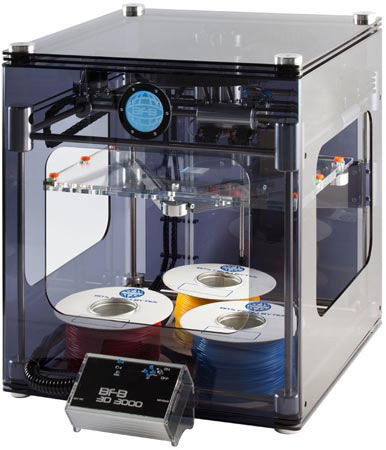 Printign area of the BFB 3000 Panther is describes the volume of 320 x 300 x 200 mm (with a single print head). Dimensions of the printer are 580 x 520 x 520 mm, weight is 31 kg. Maximum print speed is up to 15 mm3/sec. Power consumption does not exceed 90 Watt. Interestingly, the BFB 3000 Panther does not require connection to a computer — it can be used autonomously by loading the task from an SD card.
The manufacturer of the device is a British company Bits from Bytes Ltd. Among the potential customers are printer manufacturing companies, industrial designers and architects, and just amateurs modelists.