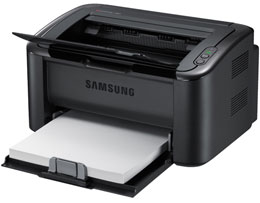 Samsung Electronics introduces two new models of monochrome laser printers. Samsung ML-1660 and ML-1665 are equipped with a wide range of functions intended to simplify the management of printing. For example, through Print Screen button, users can in one touch print out what is currently displayed on the screen.
Both printers are supplied with special AnyWeb Print software, enabling instant composing and saving any web content prior to printing, simply by moving it to the special work area in your browser.
New models of Samsung ML-1660 and ML-1665 are compact, which is so ideal when working space is scarce. Printers have elegant flowing forms and black glossy finish. Special design of the output tray helps reduce noise that prevents from concentrating at business or home matters.
With print speeds of up to 16 pages per minute first page out time being less than 8.5 seconds, the new laser printers ML-1660 and ML-1665 are reliable and high quality devices for everyday use and are ideal as an assistant in study and work. Thanks to the convenient location of power button on the front panel, you can reduce the cost of electricity by turning off the printer from the power supply, leaving it to the energy-consuming standby mode.
New Printers Samsung ML-1660 and ML-1665 supports high-performance black and white Samsung toner cartridges, capable of printing more than 1,500 pages on a single refueling.