Zink teams up with Pandigital to unveil an array of imaging products leveraging Zink Imaging's award Zero Ink Printing Technology. This collaboration has resulted into the emergence of their first product that claims to be the world's first ever Zero Ink 4×6-inch printer.
Zink Technology brings to Pandigital a new technological platform to enable a new generation of devices which are compact in size, easy-to-use, as well as eco-friendly. These products will be powered by patented Zink Paper. The Zink Paper is an advanced composite material integrated with yellow, magenta, and cyan dye crystals. Using heat, Zink devices activate and colorize these crystals, providing an easier printing process.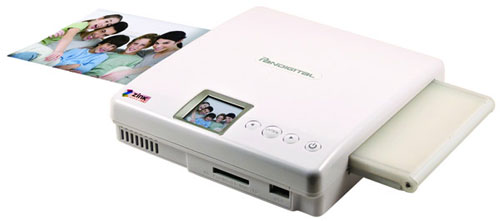 "We are thrilled to have Pandigital join our partner network," said Wendy Caswell, President and CEO, Zink Imaging. "Throughout Pandigital's history, they have driven growth in existing and new product categories by making products easier to enjoy and by leveraging innovative technology and design. Their corporate mission of delivering simple and elegant products to the mass market consumer at a great value is a perfect match for what the ZINK Technology stands for – an unparalleled value proposition, simplicity in printing, and ZINK for everyone."
The Pandigital Portable Photo Printer negates the requirement of ink cartridges or ribbons and outs borderless full-color 4×6-inch prints. Users can carry it along virtually anywhere as it does not require a PC. The device features a memory card slot, a preview LCD, and an intuitive user interface.
"The fact that today's busy consumers want to more thoroughly and simply enjoy their digital images is the cornerstone of Pandigital's success in the digital photo frame industry," said Dean Finnegan, CEO and founder, Pandigital. "Our new Pandigital Portable Photo Printer is the perfect complement to our award-winning lines of digital photo frames and PhotoLink scanners, as they give consumers an additional way to enjoy their digital images and treasured memories. And Zink is the only technology that allows us to completely eliminate the hassle, cost, mess and waste of ink cartridges while instantly delivering a high-quality beautiful 4×6-inch photo."
Pandigital being the newest partner of Zink Imaging, it represents the further expansion of Zink business and technology ecosystem.