Hewlett-Packard is going to enter the consumer market of 3D-printers. So far, devices capable of making 3-dimentional objects from plastic and other materials remained the product for better-off developers, designers and architects. HP is aiming for a wider share of professionals. While the HP's machines are not cheap either – the price tag is around $15,000 – it's a giant step forward.
According to the technical director of medical 3D-srtuctures, Bespoke Innovations, Scott Summit, 3D-printers are in high demand, however most potential customers consider them a whole another world.
Stratasys, a company majoring in 3D-printer field, is announced as the manufacturer of the devices for HP.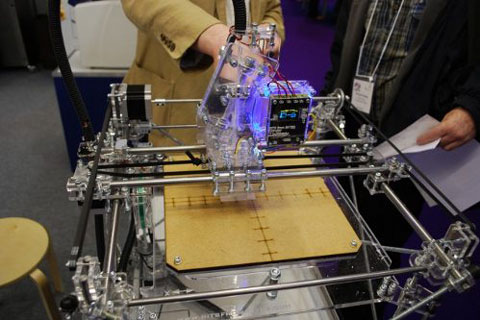 Taking into account the conventional high price of the devices, in recent years many enthusiasts have worked over own versions on affordable 3D-printers. For instance, the Makerbot, launched into market last April, cost merely $750 for the basic set of three engines NEMA 17, self-assembly components, electronic parts and an extruder for objects shaping.
The senior version is a little more expensive – $950. Of course, the HP-Stratasys devices will not be price so low, as they are designed for customers from car and space industries. Companies are not revealing the price range yet, but the mentioned $15,000 is based on the currently selling office printer by Stratasys.
"There are millions of 3D designers using 2D printers who are ready to bring their designs to life in 3D," Santiago Morera, vice president and general manager of HP's large format printing group, said in a statement. "Stratasys' FDM technology is the ideal platform for HP to enter the 3D MCAD printing market and begin to grab this untapped opportunity."