Toner Cartridge Depot proudly present a new store feature — Repeat This Order button:

This small button has enough power to make anoter purchase much easier for regular shoppers.
As we know, inks and toners have a disgusting habit of ending, often suddenly. And we have to buy them over and over again, so it may even become a routine. Well, buying a cartridge or two (or three or four) is not a brain surgery, nonetheless this is where our small button comes in handy.
Let's assume you placing an order of two, three or several printer supplies — ok, even one cartridge will do for our example. You fill in your billing and shipping information, complete the checkout and receive your parcel some day later. You are now a happy owner of cartridges, which you easily forget about a minute later.
Unitl you need replacement cartridges again.
Recently, you'd have you go through the whole shopping and checkout prosess to get your supplies. Now you don't.
Repeat This Order button allows you to quickly do, well, exactly what it says – repeat your order. Simply login into your account, go to Order History section and click you last order (actually, it can be any other order you have previously placed.)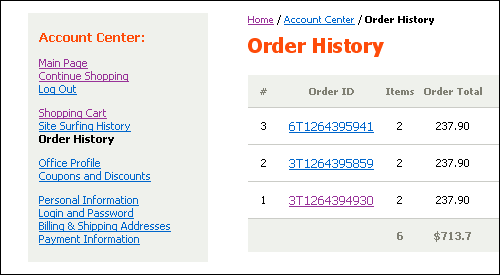 On the order details page, press the Repeat This Order button to automatically add the cartridge and go to order preview page.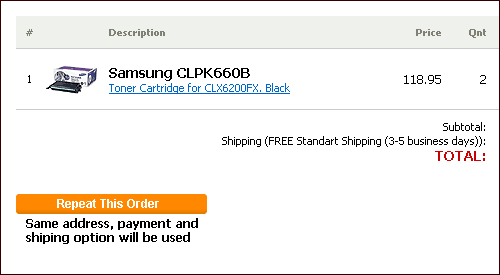 By default, the selected order's content as well as billing and shipping information will be used. You can change them here, on the order preview page.
Finally, click Complete Checout and here you go, the order is placed!
Register with Toner Cartridge Depot to enjoy the benefits of fast reordering.