Office Profile can be a very useful tool for regular shoppers who two or more machines to buy cartridges for. Initially, it requires investing some time in it (a couple of minutes, actually), but pays off later on.
First off, the Office Profile is available only for registered users. Sign up right now or anytime later by following the link at the top of almost every page, here it is:

or during the checkout:

Registered users simply log in into the Account center (by following the link at the top of a page, see the picture above):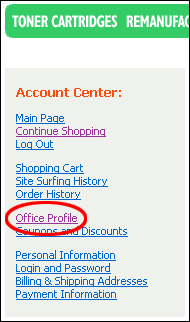 By default, you have no printers selected:

Now all you need to do is select your printer models (the ones you need to buy cartridges for) using the drop-down menus.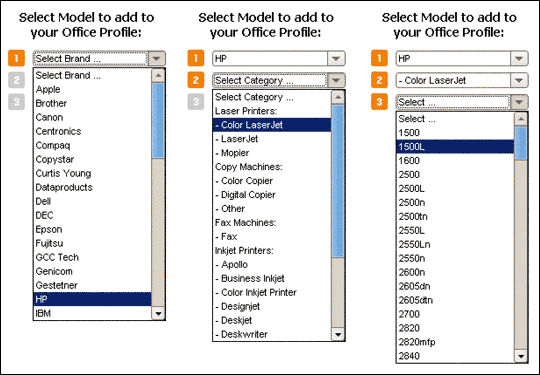 When the model is selected, you will see it next to the drop-down menus:

To add another printer to you Office Profile, do as described above again. To remove a selected model, click the x-button next to it.
The model that I chose has 21 cartridges that can go with it, let's view them.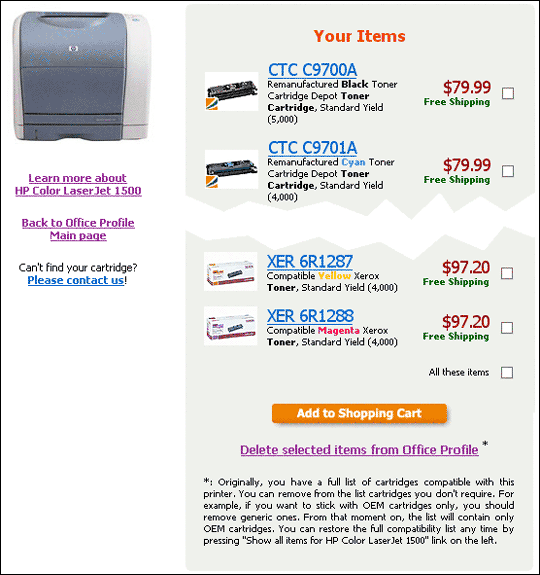 The chances are you don't really want to regularly buy all of those cartridges, but only several of them. Check the ones you don't need and click "Delete selected items from Office Profile". Unnecessary cartidges will be hidden from you sight, however, you can always view them again later, simply click the "Show all items for …" below the printer image.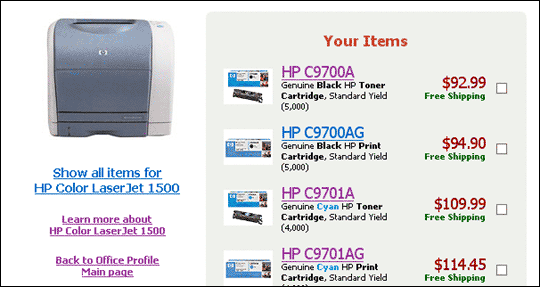 With only required cartridges in view, you can just click the "Add to Shopping Cart" button to intantly add your supplies to shopping cart. Later on, you just log in into your Office Profile and buy cartridges for each of your printer in one click. Simple as that.
Start using this service right now and save your time!