There is no doubt that color documents and hand-out materials give you an advantage when dealing with clients and partners. Using color printing in internal office paperwork makes it easier to grasp information, improves readability, quickens documents search and sorting, decreases error rate and enhances learning ability. Given all that, you company's benefits are obvious – cost-effectiveness and optimized use of resources.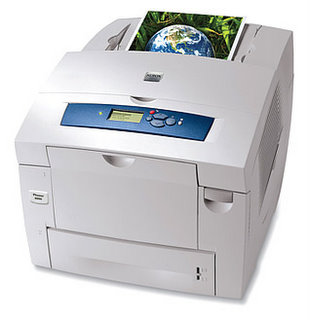 There has been only one obstacle for massive deployment of color paperwork – high cost of color print. But with the slowing emonomy in the background, such deploying looks even more imappropriate. However, the new Xerox Phaser 8860 offers its users equally low cost of everyday monochrome and color printing.
Now there is really no difference between printing a black-and-white page and a color page. The cost is virtually the same as that of a monochrome printer of similar performance.
This printer is the first of a new series of products based on Xerox Solid Ink Technology. Constant development of this technology has made it possible to greatly cut the production costs of this type of consumables.
The Phaser 8860 can print as fast as 30 pages per minute in both monochrome and color; first-page-out time – 5 seconds. The printer supports two-sided output and network connectivity. The maximum duty cycle is 120,000 impression per month.
The Xerox Solid Ink Technology provides additional advantages:
Use of wide range of printing media
Enhanced reliability due to absence of the fuser
High fidelity of color reproduction and color brightness
Smooth and saturate solid colors
Advantages
The Xerox Phaser 8860 was designed with cost-effectiveness of use in mind. Major part of the saving relies on revolutionary low cost of color printing. Besides, the cost of a color printout is the same as of a monochrome page.
This equality has been achieved due to the cost of the three color sets of solid inks being identical to the cost of one black set, given the same yield.
Xerox Phaser 8860 is a choice of companies that don't care for a short-term gain, but think of long-term cost decrease.
Apart from direct economy due to revolutionary low cost of color printing, there is also indirect savings:
You save storage space as the solid ink sticks require much smaller compared to regular toner cartridges boxes.
You don't have to utilize used consumables. Disposing regular toner cartridges can be a real headache for large companies with high printing volumes. There is no such problem with solid ink sticks, you can dispose them right into dust bin.
Ease of use
Solid ink sticks are install into printer, just as easy as staples into stapler. All you only need to do is insert a stick into its cell, even without interrupting the printing! Each cell has a unique shape for each ink color.
The printer continues to work even when it runs out color inks – documents are printed in black and white.
The Xerox Phaser 8860 pays off within 6 to 12 months, depending on printing volume. After that a company receives pure economic benefits.
Get double savings on color printing and buy Xerox Phaser 8860 solid ink sticks in TonerCartridgeDepot.com.