As you can gather it from the header, Samsung CLX-6200FX is a printer that has some additional functions: copying and scanning. (You may actually call it a multifunction copier or scanner as well.) Those are most regular modern offices require from a printer, so let's have a closer look at every of these functions.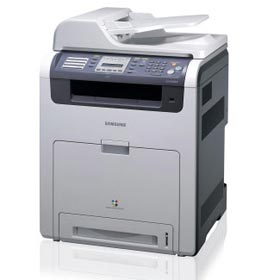 Printing
According to manufacturer's specification, the CLX-6200FX can print as fast as 20 A4 or 21 letter pages per minute in both color and black-and-white. The real-life speed, as it always happens, is a bit slower – 18 ppm, which is an average result.
Another speed factor is worth mentioning – the warm up time. It takes about a whole minute for Samsung CLX-6200FX to make first print. Way too long for a modern printer.
The printing quality can be assessed as good. The text is crisp and readable, though may look a bit fuzzier compared to that of competitors' models.
Color output is better than average with good color reproduction. An eagle-eye viewer may find a little banding on high-resolution color prints, but this artifact is not consistent and really takes a lot of staring to detect.
Network printing and direct printing from a USB-drive are supported.
Copying
The copier features allows doing all the things a little office photocopier can to do: edge-erase, collation, zoom, etc. You can also select what type of original (image, text, etc.) you have. The copying resolution is fixed at 600×600 dpi.
A copy made from a printed off image was good but a little grainy.
The copying speed for text originals is the same of printing – 18 pages per minute.
Scanning
The scanner is capable of up to 36-bit 600×1200 dpi of optical) or 4800×4800 dpi enhanced resolution when used in TWAIN mode. The resolution is adjustable between 100 and 600 dpi for scan-to-USB/PC/e-mail modes.
Samsung CLX-6200FX can scan documents and save them directly onto the USB drive. You can also scan a document to a networked computer having installed the SmartThru software. File formats supported include PDF, BMP, TIFF and JPEG..
Pressing the "Scan" button will prompt a dialogue on the 2-line LCD when you can set mode, resolution, destination, and so on. While PDF and JPG output worked fine, it seemed to have some troubles with TIF output as the resulted file was impossibly small.
The printer is rather heavy (100 lb.) and requires a sturdy place to put it on. Optional features include duplexing automatic document, optional hard disk and wireless print server functionality.
The printer comes shipped with the standard yield Samsung toner cartridges (2500 black or 2000 color (cyan, magenta, yellow) pages. There are also high-yield toners which yield 5500 (black) or 5000 letter-sized pages (CMY). At TonerCartridgeDepot.com you can buy Samsung CLX-6200FX toner cartridges of both standard and high yield.