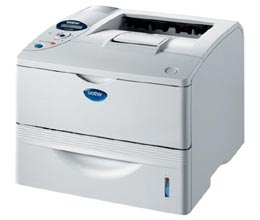 Brother has pushed itself up into second place in the laser printer market by producing a wide range of well-made, high-value machines. The HL-6050D is a medium-size workgroup mono laser printer with built-in duplex facilities. It's reasonably expandable and Brother claims a top speed of 24ppm, so it should be quite quick.
The printer is square-cut, but looks modern, even in its slightly passé cream case. A substantial, 500-sheet paper tray can be supplemented with an optional second one and there's a 100-sheet, multi-purpose tray, which folds down from the front. Paper feeds to the HL-6050D's top surface, next to the printer's controls.
The control panel is simple, but covers all the essentials. There's a four-way dial for navigating menus and dedicated buttons for starting and cancelling print jobs. The final button is marked Reprint and it's good to see all the controls are marked with Braille codes, for the sight-impaired.
The Reprint button does what the name suggests; it reprints the last job sent to the printer. This is ideal if you want to print a single copy and proof read it, before completing the rest of the job. It could be a security problem though, if you don't clear the function after printing a confidential document. There's no USB socket on the front panel for walk-up printing, which would complement the Reprint function.
The two-line LCD display has a twin-colour led backlight, which switches from green to orange to indicate alerts and errors; a neat solution. The menu system itself is easy to navigate and offers good control of the printer's functions.
Installing the consumables is straightforward: fold down the front panel and you can slide in the two-part drum and toner cartridge. The drum has a service life of 30,000 pages and each toner cartridge should produce 7,500 ISO pages, so maintenance isn't going to be a day-to-day affair.
The bundled software includes drivers for PCL and Postscript page description languages, both in emulation, and drivers for Windows, Mac and Linux are available. Ethernet networking is included as standard, together with appropriate monitoring software. Brother also offers an optional wireless adapter, so you can free the machine from a cabled network connection, if you need.