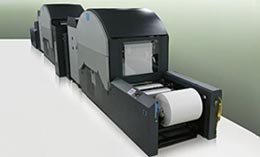 Hewlett-Packard has designed a digital Inkjet Web Press especially for newspapers, book publishers and commercial print shops.
The printer costs $2.5 million and for the price it can print full-color, newspaper-sized pages. The goal of HP was to drive down the cost of small-volume printing by enabling the publishers to customize their content to specific audiences.
For instance, a book publisher could use the digital press to print small volumes of currently out-of-print books. Commercial printers can print personalized ads on bank statements, telephone bills and other transactional documents.
Newspapers would be able to print different editions with targeted advertising. HP believes there is huge potential for individualized newspapers. And while it is hard to beat the low cost of analog presses, however HP is stressing the importance of the flexibility of the Web Press to personalize content.
No newspapers have ordered the press as of yet, however one US paper will be testing it and will produce fourteen different versions of their paper each day with the new printer.
One printer can be used for a variety of things, publishers from books to newspapers to magazines could team up to share printers in order to further cut costs, so perhaps it is the start of a solution for the future of print.