There's quite a number of wireless printer solutions available on the market, but if you are looking for a few more capabilities, you make take note of Ricoh's new HotSpot series models.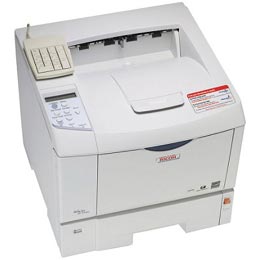 The series includes a color model SP C410DN-KP and a monochrome SP 4100N-KP, which according to Ricoh are the first printers that let users "print documents from any Wi-Fi enabled location or device." No additional software download or installation is required.
HotSpot Series printer use Ricoh Embedded Software Architecture, developed by Ricoh together with PrinterOn, a developer of mobile printing solutions. The new printers have PrinterOn's PrintSpots mobile printing software pre-installed and pre-configured, so there's no need for external servers or applications. Also, this prevents unwanted changes in setup and print queue.
There are two ways to print on Ricoh SP C410DN-KP and SP 4100N-KP. The first is to upload the files to a website associated with the printer; the second is to forward the file to the printer's own email. That means you won't have to install any drivers and are rid of tedious printer setup.
After the printer accepted a task, it sends a unique confirmation task code back to user. This code can be entered from a printer's digital keyboard for printing the task.
No official price is yet known, but the monochrome SP 4100N-KP already sells for $1700. Naturally, the color model, Ricoh SP C410DN-KP, will cost a lot more.