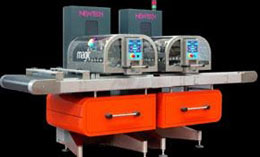 Newtech SRL has announced KeraMagic, the first digital color printer to produce images on ceramic tiles.
The new printer is based on inkjet technology, incorporates grayscale Xaar 1001 inkjet printheads to carry out drop-on-demand jobs in a single pass
The KeraMagic is available is two configurations – the 350 mm width model and a 700 mm width model. It can print at up to 25m per minute at resolutions up to 360 dpi and with eight levels of grayscale.
The company says the KeraMagic can output a variety of fluids to produce tiles effectively in short-run volumes.
Newtech SRL will launch KeraMagic at Tecnargilla, which takes place in Rimini on 30 September to 4 October.
Via www.printweek.com