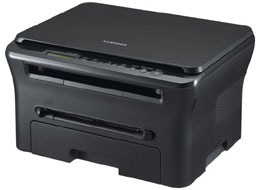 The SCX-4300 has a neat footprint for an office all-in-one machine, a little wider than a typical personal laser printer, but with very similar depth and height. The sides of the machine flare slightly at the top to accommodate the A4 scanner mechanism which, unlike the SCX-4500's, sits across the laser engine from left to right, rather than from front to back.
The software supplied with the machine is Samsung's standard coupling of its SmarThru 4 and Dr. Printer utilities. The first deals with scanning, copying and printing, as well as sharing images, while the second is a diagnostic website. The driver itself handles watermarks, overlays and various print quality settings, laid out in a logical and easy-to-navigate panel.
The SCX-4300 is quite a nippy little printer, completing our five-page text document in just 30 seconds, or 10 ppm. The text and graphics pages (five of them again) are even quicker at 11.54 ppm and when we printed our 20-page document, it took 1:21, increasing the speed again to 14.81 ppm. Samsung's claimed top speed is 18 ppm, so for a printer maker that's almost obscenely accurate.
A single page photocopy finished in 11 seconds, so you could get six or so pages per minute from the machine and a 6 x 4 in. photo took little more, at 13 seconds. Both these speeds are impressive, particularly for a machine being sold at around $200 – less minus delivery.
Print quality in most areas is good. Although the maximum resolution of the machine is just 600dpi, there's little visible sign of jagged diagonals or curves in text. When you add greyscale graphics, the quality isn't quite so good, with some striping apparent and not many visible grey shades.
The SCX-4300 uses an integrated drum and Samsung toner, capable of printing 2,000 ISO pages. With a typical cost of just under $80, this gives a cost per page of 5.4 cents including paper costs. This is a fairly typical cost for a mono laser device and for black print from a colour one, too, so you're not paying extra because of the comparatively low purchase price of the all-in-one itself.
This is a good, straightforward multifunction printer which would be very at home in a typical SOHO environment. It's quite quick, produces good text and passable graphics, though copies of graphics, particularly of grayscale shades, can be very patchy. Running costs are reasonable and if your budget is tight this looks like a good way of providing yourself with the main office print, scan and copy functions at reasonable cost.