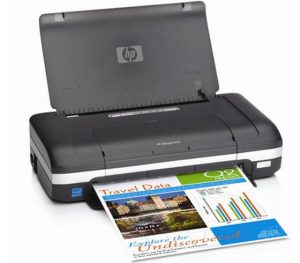 HP introduces the world's fastest mobile printer (based on the published specifications), the HP OfficeJet H470b.
As any decent mobile printer, the OfficeJet H470b supports optional Wi-Fi and Bluetooth connectivity. The printer is compatible to numerous operational systems such as Windows, Macintosh, Palm, Tablet PC, Pocket PC, and Symbian.
The printer work well without a PC, just connect it your notebook, PDA, digital camera, cell phone, or even memory cards and go print!
With the HP OfficeJet H470b Mobile Printer, you can get your documents and graphics at fastest-in-class speeds of up to 22 pagers per minute in black and 18 ppm in color, which is a lot for a mobile printer.
The long-lasting Lithium-Ion battery enables the printer to deliver up to 480 pages per charge. You can also use your car's power by using the 12v auto power adapter.
The OfficeJet H470b is very light to carry around, it weigh only 5 lbs, yet it's durable. Don't be afraid of dropping it by a coincidence — the printer is drop-tested from heights of up to 0.5 meters.