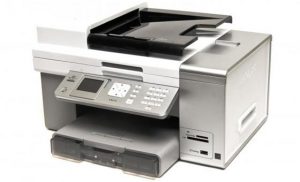 The X9575 is the flagman ship of Lexmark's Professional series of inkjet multifunctions designed to serve business needs. (The unit has a range of connection options and a number of PC-less features that make it a suitable addition to the home or small office. However, the printing speeds and photo quality leave a bit to be desired.)
The X9575 is rich in connectivity options: you can connect it using USB, Ethernet and 802.11g Wi-Fi.
The front control panel of the multifunction features a color LCD for previewing photos and navigating the menu. Next to the display is a PictBridge port for direct printing and a multi-card reader. The printer has an automatic duplexing feature, allowing businesses to save money through double-sided printing.
From a media card, you can print not only photos, but also Word documents and PDFs. Scanning can be initiated from the device, with users able to choose which computer to scan to. The X9575 automatically determines the assigned computer's scanning software, and you'll be able to save the results as a straight image, editable document or email attachment.
The Wi-Fi connection of the Lexmark's X9575 is quite versatile. Users can set up a connection either between the multifunction and a computer exclusively, or between the printer and a wireless network for sharing with multiple computers.
When it come for printing speed, the X9575 is not so good. Standard text documents are printed at 15.8 ppm at draft mode, slowing to 9.4 ppm at normal quality settings. Color printing speeds are even slower: 8.8ppm for a draft graphical document and terrible 2 ppm for normal quality documents. Such speeds are unacceptable for a business machine, even cheaper desktop printers show better performance.
The X9575 can produce average quality documents for business purposes, neither excellent nor horrible. Adding graphics and highlights to the documents doesn't impact on quality. Color is largely consistent, but not entirely accurate; it's adequate for business use. Quality gradation is definitely noticeable, with draft documents appearing much more faded than normal or best quality documents.
Photo printing is available on the X9575, but it doesn't seem to have been a priority for Lexmark. Colors are over-exaggerated with no fine detail or defined blacks, and gradients proved a problem, introducing background noise to photos. While the quality of the photos may be passable for occasional use at home or at the office, photo enthusiasts won't be satisfied.
Scanning is passable, particularly document scanning. The tests showed the X9575 produces a slightly darker image than the original photo, bringing out detail in lighter photos but sacrificing detail in low-contrast photos. The unit's 1200×4800 dpi resolution is more than sufficient for OCR purposes.