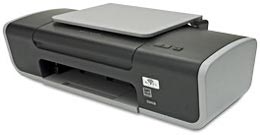 While being just another low-cost color inkjet printer, Lexmark Z2420 Wireless stands out for its integrated 802.11b/g wireless connectivity, which makes it as flexible as only few other printers in this price range. Unfortunately, that's all there is, because its performance is moderate, according to, discovers Melissa Riofrio, in PC World review of Lexmark Z2420.
In tests the Z2420 performed fairly well. It produced 10 pages of text in 1 minute, which is slightly above average for this category. As for color graphics printing, here Z2420 rates slowest among the likes.
It was noticed that the Z2420's print quality greatly depends on the type of paper. On the plain paper, the black ink produced slightly faded and fuzzy-looking letters. Color photos also looked faded and grainy. On Lexmark's own photo paper, the same images brightened and showed improved, crisper details.
Lexmark calculates its ink yields using a suite of typical documents. The cartridges that came along with the Z2420 printer ran out fast, after 175 "black" pages and 150 "tricolor" pages. A higher yield, yet more pricy cartridges are available; black cartridge costs $25 and lasts 500 pages or 4.9 cents per page. A tricolor cartridge lasts same 500 pages, but costs $35, which makes 7.2 cents per page.
The printer is easy to install via USB or wireless, thanks to the helpful installation process. The overall design is of the printe is described as simple, too.
The printer can hold up to 100 sheets through rear-loading input area and has a 25-sheet output tray. The cartridges are hidden behind a top panel and have easy-release latches. There are only 2 buttons on the control panel that perform all, but this is a common site for a budget printer like that.
In conclusion Melissa finds Lexmark Z2420 Wireless rather disappointing as main printer. However, as a cheap secondary device for occasional photo printing, Z2420 is a good choice. Besides it has a wireless connection, something that other low-cost printers don't.