Toner Cartridge Depot proudly announces that
A new home page is born
For several years TCD has been having the main page intact. But time go on, so does life, and what was current once, is obsolete now. "The time has come" — that is what we decided and released a new version of the home page.
Truth be told, that was a protracted labor: our team has walked the long path of trial and error before the main page could see this world, or I'd better say 'before this world could see the page.'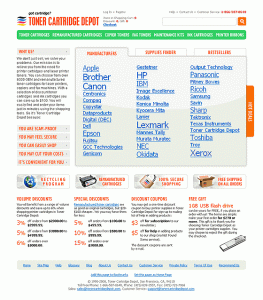 Here we must warn you, unlike on the picture above, in real life tabs don't switch automatically. You will have to click the tabs yourself!
So what's new?
The list of brands has changed its look. Now you can see the size of font is smaller for less popular brands and is larger for more popular brands.
The Supply Finder has moved to a personal tab and its larger font won't let you click a wrong menu item by mistake.
The Bestsellers now have their own tab, too. How could that be helpful to me, you may ask? The Bestsellers are cartridges that sell best for they are popular, that is compatible with popular printers, and the chances are you printer is one of those. Tag line is: find your toner cartridge faster!
A tab with Hot Deals. A bit of advertisement never hurts, you know. Besides, this section of the store offers cartridges at prices that are really hard to resist.
Bottom line is… well, actually it's a bottom row — the most current information on discounts and gifts available in the store.
The idea behind the makeover of the main page was to give it a modern look and. More importantly, make it more convenient for you, our customers.
You are welcome to share you opinion on the new home page.
Toner Cartridge Depot team